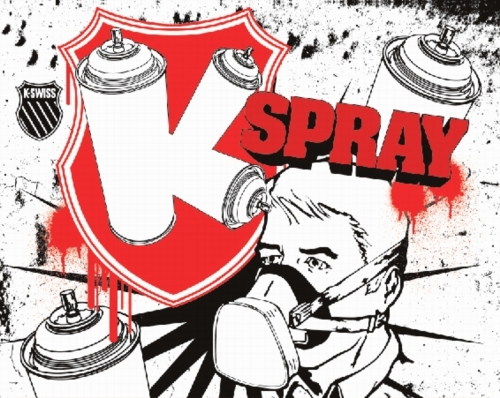 2005/09/03 土曜日土曜日
K-Spray International TourK-Spray International Tour
Open: 00:00:00 | Start: 00:00 - 23:59
Export:
予約する/Reserve
K-Swiss presents K-Spray International Tour in Tokyo
ステンシルアートの3巨匠、Logan Hicks (USA), Phibs (Australia), SIXTEN (Sweden) によるライブステンシルイベント。
K-SPRAY INTERNATIONAL EVENT
いつかどこかで地味に始まったステンシルアート。それが今や、アングラ界をひっくり返すアートとして、我々の街のストリートを席巻。そのストリートは、アート・デザイン・ポップカルチャー等々、さまざまなひょうげんが行き交う雑踏となっている。今年9月、K-Swissより"K-Spray International"アジアツアーが開始。ショーやライブイベントを通して、ステンシルアートをストリートから公衆へと伝導していく。このイベントには、今世界で最もアツい3人のステンシルアーティスト、Logan Hicks(アメリカ)、SIXTEN(スウェーデン)とPhibs(オーストラリア)が参加。目の前で起こる、彼らのスリリングなパフォーマンスはまさにクリエイティブ。必見だ。さらに今回は、Tusk(オーストラリア)やFremantle(フランス)、M-City(ポーランド)、Tell-Tale(アメリカ)、Hammo(イギリス)といった、世界で活躍するアーティストも加わっている。また世界の最先端ステンシルアートを一挙公開。おそらく初めて目にするであろうその光景は、あなたに新しいアートのカタチを知らしめてくれるはずだ。そのとき、あなたにはどんな感情が芽生えるのだろうか。アジアツアーは9月3日の東京を皮切りに、6日に香港、8日に台北、10日にSEOUL、13日にタイと巡っていく。お見逃しなく!
LOGAN HICKS
a.k.a WORKHORSE.
LOS ANGELES.BIO
90年代後半、西海岸芸術に傾倒・没頭するためカリフォルニアへ移り住む。Loganは極めて繊細で、手で几帳面に切られたステンシルで知られる。また、異常に執着して作品を制作することでも知られ、1つの作品をつくりあげるまでに数百時間を要することもある。主題が変わっても作品ごとに一貫した雰囲気を持っており、無秩序の中に秩序を見つけるというような、ありふれたものの中にある美しさが伝わってくる。近年の広告キャンペーンの仕事で、国際的なギャラリーやフェスティバルから注目されるようになった。ヨーロッパ各地の若いアーティストたちに多大な影響を与えている。
SIXTEN
CARL ADAM GUNNAR NYMAN.
SWEDEN. BIO
地元スウェーデンの通りから、ヨーロッパ各地のストリートにステンシルを広めた。また、ドイツ、オーストラリア、アメリカ、日本など、世界各地のギャラリーでも披露されている。SIXTENのステンシルは、極度の感情(情熱、恐怖、幸福感、激怒)から得るインスピレーションが特徴で、そのパフォーマンスはディープで刺激的。ここ数年、SIXTENの活動も多岐にわたり、グラフィックデザイナーとして主にファッションブランドのデザインに加わっている。また、15000人以上の登録ユーザーを持つ、www.stencilrevolution.com
(世界初のステンシルアートサイト)の管理者でもある。
PHIBS
TIMOTHY REINIER DE HAAN.
MELBOURNE AUSTRALIA.BIO
拠点を置くメルンボルンがPhibsに与えている影響は大きく、街の落書きとストリートアートの質は、彼にとって絶え間ないインスピレーションとなっている。Phibsのステンシルは、サインがきれいなラインとカットバックスタイルが特徴だが、神話学や古典・現代芸術のインパクトを受けているのも個性的だ。その壁画はメルボルンで見ることができるが、多くの国際的なイベントにも参加している。ここ数年の仕事では、ウォルトディズニーに依頼された2つの壁画、メルボルン市会議のための長さ100mのエアゾール壁画、野外ロックフェス「ビッグデイアウト2004」のアートワークなどがある。
DJ YUTAKA
20年にも及ぶキャリアを持つベテランDJとして知られているDJYUTAKA。まず、日本ではJaspa,そしてHipHopなどのクラブにて活躍。82年に単身で渡米し、89年にはAfrika Bambaataa率いるUniversal Zulu Nationの目、そして耳に止まり、日本人としては初の同組織のメンバーとなる。
DJ TSUBUKI (asobe systems)
8年間のキャリアの中でair , code , asia , vuenos , zepp東京 , core ,sifty ,二子玉川沿い,等、東京を中心に大中小様々なクラブやパーティー会場でプレイし、変わらず自分のスタイルでパーティーピープルを踊らす新宿は神楽坂の下町発DJ。数々のアーティストの前座をこなし、Mr前座DJとも言われてる。
K-Swiss presents K-Spray International Tour in Tokyo
Live Stencil Art Performance : Logan Hicks (USA), Phibs (Australia), SIXTEN (Sweden)


K-SPRAY INTERNATIONAL EVENT
From humble beginnings in caves and as the artwork of underground revolutions, Stencil Art now pervades our city alleys and streets, a culture jam of art, design and pop cultural expression. K-Swiss delivers this art form from the streets and into the public eye via the K-Spray International Exhibition & Live Event, touring throughout Asia.
The event sees three of the world's most talked about stencil artists, Logan Hicks (US), Sixten (Sweden) and Phibs (Australia) come together to demonstrate a thrilling exhibition of live stencilled art, created before your eyes. In addition to this the best stencil art from around the globe will be showcased. Far from your ordinary culprits, you will bear witness to incredible sights, art that makes the walls scream including work from international artists: Tusk (Australia), Fremantle (France), M-City (Poland), Tell-tale (USA) and Hammo (UK).
This celebration of stencil art kicks off in Tokyo on 3 September, followed by Hong Kong on 6 September, Taipei on 8 September, Seoul on 10 September and Thailand on 13 September.
These world famous artists are at the forefront of a global trend and are not to be missed.
LOGAN HICKS
a.k.a WORKHORSE.
LOS ANGELES.BIO
Logan Hicks, stencil artist, was classically trained, but cut his teeth on the industrial streets of Baltimore, Maryland. Intent on submersing himself in the West Coast urban art movement of the late 90's, Logan moved to Los Angeles, CA, where he currently resides.
Formerly a screenprinter, Logan sold off his equipment to finance his move out west. This left him with nothing to produce his art. He soon turned to stenciling to simulate the process of screenprinting and as his sole medium, he has never turned back.
Known for his hyper-detailed, meticulously hand-cut stencils, he has rocketed to the top ranks of his field with his borderline obsessive approach to creating stencils. This labor and time intensive medium involves cutting a separate stencil for each color and then layering each color upon the next until the piece emerges. Completing one piece by using this technique can take hundreds of hours.
Although the subject matter may vary in Logan's work, there is a consistent feel that underlies each piece. Finding order within chaos and seeing the beauty in the otherwise mundane have been constants in Logan's work. Whether it is following the trickle of a steel fire escape down the side of a building or mapping out the veins in a leaf with stencils, Logan's monochromatic work seems to slice time itself and freeze it on the canvas. Art critic Felicia Feaster professed, "Forget traditional landscapes. Hicks' haunting black-and-silver images wrest noir beauty from unexpected inner-city locales." 
In recent years, Logan has been called upon by companies such as Disney and Red Bull to provide an urban feel to their advertising campaigns. His work has also caught the attention of galleries and festivals internationally. Lectures in Slovenia as well as shows in Berlin, Rome, and Melbourne have all helped bring notoriety to this burgeoning artist.
SIXTEN
CARL ADAM GUNNAR NYMAN.
SWEDEN. BIO
Sixten has spread his stencils from the streets of Sweden to the alleys of Melbourne, Copenhagen and Berlin. His work has also been on display in galleries all across the USA, in Japan, Canada, Germany, Sweden and Australia on several occasions.
With inspiration drawn from extreme feelings of passion, angst, euphoria and rage, Sixten's stencils provoke and amuse. Off the streets his art can be found in the books Stencil Pirates by Josh MacPhee and Conform by Saskia Folk. The release of the book Stencil Graffiti Capital: Melbourne, in October 2005, will be his first as an author.
For the last five years Sixten has been working as a graphic designer, primarily in the fashion industry, designing for various brands. He is also working as an administrator for www.stencilrevolution.com, the world's premiere site on stencil graffiti, with more than 15 000 registered users world wide.
PHIBS
TIMOTHY REINIER DE HAAN.
MELBOURNE AUSTRALIA.BIO
Phibs, originally from Sydney, is now based Melbourne because of the strong support for its arts community and the opportunities the city offers to the up-and-coming artist. Melbourne's quality of Graffiti and Street Art has been a constant inspiration to him.
While Phibs' signature is definitely almost stencil-like with clean lines and cut-back style, his work is strongly influenced by the art and mythology of other cultures – both ancient and modern.
Stemming from a traditional graffiti background, he generally tries to promote the quality sides of graffiti through such outlets as commissioned murals, youth workshops, exhibitions, and theatrical productions. His murals can be seen around the inner city of Melbourne, and he is constantly taking part in exhibitions both nationally and internationally.
Some of the major jobs that have been commissioned over the last 2-3 years include: 2 murals commissioned by Walt Disney; 100m long aerosol mural for Melbourne City Council; 85sqm mural for Max Brenner (café) in the new Melbourne Central; Artwork for 2004 Big Day Out & Performance art for Tiger Beer promotion in Sydney, Melbourne & Brisbane.
DJ YUTAKA
DJ TSUBUKI (asobe systems)

More great eventsこちらもどうですか
2022/10/16 日曜日日曜日

SuperDeluxe presents: SupernaturalDeluxe Vol.2八木美知依 Michiyo Yagi

Open: 16:30 | Start: 18:00 - 19:00

前売/Advance: ¥3500 | 学生/Student: ¥2500 | 当日/Door: ¥4000
邦楽から前衛ジャズ、現代音楽、プログレッシヴ・ロックまで幅広い分野でワールドワイドに活躍するハイパー箏奏者 八木美知依が南房総に初登場!
チケット販売開始しました!
Join us for this first-ever performance in southern Chiba by one of the premier virtuosos of the Japanese transverse harp known as the koto!
Tickets On Sale Now!