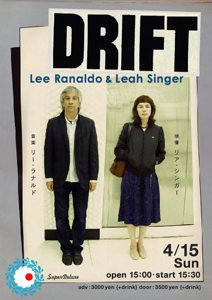 2007/04/15 日曜日日曜日
DRIFTDRIFT
Open: 15:00:00 | Start: 15:30 - 23:59
Export:
予約する/Reserve
ソニックユースのギタリストであり、詩人であるリー・ラナルドと彼のパートナーである映像作家のリア・シンガーが1991年から世界中の美術館、ギャラリーで発表してきたコラボレーション作品の待望の初来日公演!!!
2台のアナリティカル・プロジェクターで投影されるシンガーの映像にラナルドの音楽と詩が重ねられ、溢れるイメージと音が幻想的に共鳴しあう。即興的に静止する日常の1コマとノイズから生まれる独特の浮遊感が、現代のアメリカン・アヴァンギャルドの実験精神を伝える。
出演: リア・シンガー (映像)、リー・ラナルド(音楽)
※ スペシャルゲスト: DJ天使と恍惚
協力: Smash West、UPLINK、五木田智央、Jim O'Rourke
宣伝美術: 永戸鉄也
– – – –
Do The MOYPUP!展
4月2日(月)〜4月30日(月)
作品提供:金谷裕子
アニメーション:金谷裕子、稲葉まり
ドローイング作品を素材に制作したソフトサイケなアニメーションとこれまでに描いた絵をラウンジ営業日とイベント前後に上映します!
Lee Ranaldo (music)] & Leah Singer (film)
Special guest: tenshi to koukotsu
Lee Ranaldo
, musician, writer, and visual artist, is an original member of the group Sonic Youth. Formed in 1981 in New York City, the group has recorded and played around the world since that time. Since the early 1990s visual artist and filmmaker
Leah Singer
has performed worldwide using modified film projectors and 16mm motion picture film that she shoots with a still 35mm camera.
DRIFT is an immersive sonic/visual environment consisting of music, sounds and texts by Ranaldo in response to two 16mm analytical film projectors performed in real time by Singer. Much as a DJ scratches a vinyl record, Singer manipulates her films in a live improvisation with Ranaldo's guitar, poetry and soundscapes.
DRIFT official site
Supported by
Smash West
,
UPLINK
, Tomoo Gokita, Jim O'Rourke
Flyer Design:
Tetsuya Nagato
- - - -
Do The MOYPUP!
April 2nd - 30th
Exhibition:
Yuko Kanatani
Animation: Yuko Kanatani, Mari Inaba
Come enjoy soft and psychedelic artwork during the evening lounge!
More great eventsこちらもどうですか