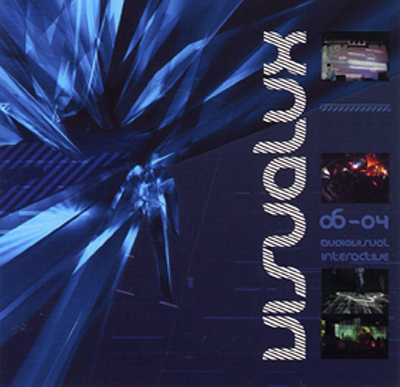 2007/06/04 月曜日月曜日
VisualuxVisualux
Open: 19:00:00 | Start: 19:00 - 00:00
Export:
予約する/Reserve
VJレーベルであるLightrhythm VisualsとGAVJは, 六本木にあるSuperDeluxeにおいて, Visual Performanceに特化したイベント"Visualux"を開催します。Visualuxはライブパフォーマンスだけでなく、アーティストの交流や情報交換などが出来る場所にする事を目的としております。気軽に足を運べるイベントにするため, 時間帯も夜7時から11時半まで。エントランスはフリー! VJアーティストや企業の方がお酒を飲みながら交流できる場所を提供します。ぜひ友達をお誘い合わせのうえ足を運んでみてください。
Performance:
21:15 UNU (Global Audiovisual Japan)
22:15 VJ Anyone (Lightrhythm Visuals – UK)
Screenings:
19:30 US Visual Screening
Ruga Magazine 2 (Le Stille Rel (SPAIN))
Presentation:
20:30 – Oliver Sorrentino (Visuals as a career)
Backing music / Intermissions:
DJ Scott Simon and Cai Murphy (Mango+Sweetrice)
Presented by Lightrhythm Visuals
New event - A social audiovisual immersive experience, with an interactive and cinematic edge.
Visualux brings to Tokyo audiovisual talent and technologies, which have flourished in Europe and the US, celebrating those cultural movements alongside local Japanese talent. From refined experimentation to a environmental installations a range of AV techniques will be explored over the course the year. Visualux will
include music, performances, and multi-media art, all originating, evolving, and drawing inspiration from visual culture.
Visualux's home page
Performance:
21:15
UNU (Global Audiovisual Japan)
22:15 VJ Anyone (Lightrhythm Visuals - UK)
Screenings:
19:30 US Visual Screening
Ruga Magazine 2 (Le Stille Rel (SPAIN))
Presentation:
20:30 -
Oliver Sorrentino (Visuals as a career)
Backing music / Intermissions:
DJ Scott Simon and Cai Murphy (
Mango+Sweetrice
)
More great eventsこちらもどうですか
このカテゴリーにはまだないみたい / No events in this category