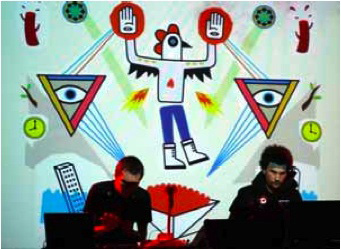 2007/06/17 日曜日日曜日
Gangpol & Mitギャングポル&ミット
Open: 18:30:00 | Start: 19:00 - 23:59
Export:
予約する/Reserve
Gangpol & Mit Japan Tour 2007
アナログとデジタル、コメディと哲学、コンピューターとシャンソンがごちゃ混ぜになった音と映像の祭典!キュートすぎて気が狂っちゃうフレンチエレクトロニカポップの若き騎士ギャングポル&ミットがついに日本侵略。昨年の伝説的なスパークス来日公演に続けて送る岸野雄一プロデュースによる本年度のブライテスト・ライブはこれだ!!!
出演:ギャングポル&ミット, Kiiiiiii, EXPO
DJ: 常盤響, mayutan
MYSPACE: www.myspace.com/gangpolundmit
フランスはボルドーで活動する、音楽担当 Sylvain Quement とヴィジュアル担当Guillaume Castagne の2人組。1980年生まれの彼らは、エレクトロニカ・ポップ・ミュージックと、オモチャ箱をひっくり返したかのような究極のポップ・アニメーションを組み合わせたパフォーマンスを展開し、子供限定のコンサートからコンテンポラリー・アートまでを縦横無尽に横断中。世界中のアタラシもの好きを唸らせている。6月に岸野雄一主宰のレーベルOutOneDiscよりニューアルバム"Music Hall, Building Fall—音楽堂倒壊"をリリース。
Gangpol & Mit オフィシャルホームページ
音楽やビデオ作品も公開中!
YOU TUBEでも動画観れます! その1, その2, その3
Vocal UTAKO TAYAMA、Drums REIKO TADAによるドラムとヴォーカルだけの二人組ガールズユニット。かなりロックでパンク、ニューウェーブ、ポップ、スクリームありの目にも耳にも楽しい音楽Tシャツ、バッジなどグッズ制作も行うクリエイティブ・ガー
ルズ・バンド。
EXPO
1987年にアルファレコードより「エキスポの万国大戦略」でデビュー。マニュアルオブエラーズ主宰・山口優とシンセサイザーのオーソリティー・松前公高による「間違い」をコンセプトとしたテクノポップユニット。ドラムスにイトケン、ギターに近藤
研二のサポートを得て2005年活動再開。
イベントへのお問い合わせはEメールにて、OutOneDiscまでどうぞ!
関連イベント&ツアーの詳細
Gangpol & Mit の visual 担当Guillaumeの日本初の作品展!
金魚cafe (東京・代々木)
期間:6月16日(土)〜6月22日(金)
6月14日(木)
中洲・Gate's7
福岡市博多区中洲3-7-24 Gate's7F
Tel: 092-283-0577
6月15日(金)
BRIDGE
大阪市浪速区恵美須3-4-36 フェスティバルゲート8F
Tel: 06-6634-0080
6月16日(土)
UrBANGUILD
京都市中京区木屋町三条下がるニュー京都ビル3F
6月19日(火)
金沢21世紀美術館
石川県金沢市広坂1丁目2番1号地下1階 シアター21 
Tel: 076-220-2800 / Fax: 076-220-2802
Live: Gangpol & Mit (from France), Kiiiiiii, EXPO
DJ: Hibiki Tokiwa, mayutan
Profile:
GANGPOL (sonic) & MIT (visual) is a french duet building a universe at the same time cheap and complex, ludic and meaning, shifted and always unforeseeable.
A contrasted electronic music, passing from the calmest melody to the wildest noise, from the most strict composition to the strongest cut-up, full of references: electro waltz, slaughtered swing, lyrical chiptune, broken folk, coconut cartoon, FM hits...
Hybrid visuals (graphic animations and numerical video), crossover between deviating cartoon and contemporary graphics, somewhere between rigorous composition and recycling of the most strange sources: weirdo animals, landscapes with shaken topography, venetian masks built from agglomerated popstars...
Together they work since four years on several kind of achievements as live events (including live for children), records (on the wwilko label) and various poductions (print, t-shirts, dolls and DVD soon...).
They already collaborated with such artists as Juicy Panic (Mami Chan & Norman Bambi, Jp/Fr), Satanicpornocultshop (Jp), Deuce & Marcin (Mikmusik,Pl), Khima France (Fr), Groupgris (Fr),...
They played live events in such places as Fondation Cartier (Paris) Torpedo festival (Liège), AVmotional (Bucarest), Kultiplex (Budapest), Feedback festival (La Villette), Pudel Club (Hamburg), Nova Cinema (Bruxelles), Les Siestes électroniques (Toulouse), Electroni[k] festival (Rennes), Placard#6 festival (Paris),..
where they shared the line-up with such artists as Felix Kubin, Bodenständig 2000, Candie Hank, Kap Bambino & Khima France, Transformer di Roboter, Blectum from Blechdom...
Coming Achivement:
Music Hall, Building Fall, cd to be released on
Out One Disc (jp)
Didadoudidoudéda tanzen butt, remix for Puyo Puyo to be released on LP with Felix Kubin, Candie Hank, Groupgris, Bretzel Goëring...
Achivements:
The Hopelessly Sad Story of the Hideous End of the World (picture vinyl LP,
wwilko
, ww017, march 07)
Gangpol und Mit tournent en rond (vinyl LP,
wwilko
, ww009, jan 05)
Disque compact, pièces détachées (cd LP, audio + vidéos, mars 04)
Entité sonore Gangpol Ins. (cd EP, avril 03)
Musicodrame pour Présence synthétique (CD-R demo, sept.2002)
Britnu Sparxxx Naked v.1 & v.2, tracks for Bilboard Head Soup compilation (
Sonore
/Nu Nulax Nulan/Xerxes, SON-24-25)
Osui nomasare: no friendly -ghost- just 1001 shells, gangpol remix for Satanicpornocultshop's Zap Meemees (
Sonore
, SON-22)
L'effet Kazoo, track for "Pingipung blows the brass" compilation, with Mouse on Mars, Elephant Power... (
Pingipung
10)
Ghetto galaxy: track with groupgris for "The UnexptedHeadz vol.2" compilation (
Ekler'o'shock
, EOSO10)
Le scratch, track for Klip! Klap! Force! compilation (
wwilko
, ww007, juin 04)
Fashion design for
Andrea Crews
Original ringtones for
no-text
Dolls with Miou
Members:
Sylvain Quément: music.
Born 03/11/1980
Degreed from art university, fully and daily involved in Gangpol & Mit project, he sometimes also happens to play as Plaong DJ, or to involve in sounddesign works (Bluemarlyn agency, Les pixels (french animation), Samsung K5...).
Guillaume Castagne: visual.
Born 16/02/1980
Degreed from art university, fully and daily involved in Gangpol & Mit project, he also sometimes happens to contribute to publications (Freistill, Faesthetics...), exhibitions, fashion design with Andrea Crew, and sometimes happens to work for Illustration (Playstation, Wad magazine...).
Contacts:
Web:
www.gangpol-mit.com
MYSPACE:
www.myspace.com/gangpolundmit
EXPO
inquires: please contact OutOneDisc via
email
.
More great eventsこちらもどうですか
2023/09/24 日曜日日曜日

JOLT, SuperDeluxe, and Test Tone present:JOLT Showcase《in 横浜 Yokohama》2023

Open: 15:00 | Start: 15:30 - 19:00

入場無料!Free Entry!
最先端のオーディオビジュアルとインタラクティブ・パフォーマンス
《会場》横浜 BankART Station (みなとみらい線「新高島駅」改札上 地下1F)
JOLT Arts returns to Japan to showcase cutting edge Japanese and Australian sound and video artists!!
VENUE: Yokohama BankART Station (B1F of Shin-takashima Station, Minatomirai Line)