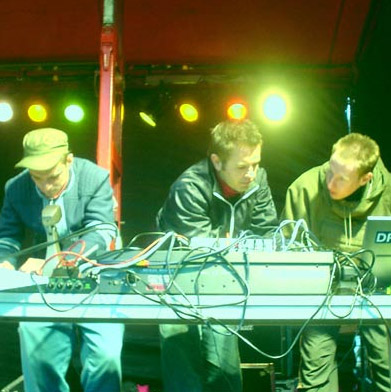 2007/11/05 月曜日月曜日
3-13-1
Open: 19:00:00 | Start: 21:30 - 23:59
Export:
予約する/Reserve
アムステルダム発のワイルドなバンド、3-1のElectro/Punk/Pistolpopを体験しよう!過去5年間フェスティバルやライブなどでヨーロッパををロックしてきた彼らが東京に上陸!もたもたして見逃しちゃわないように!
Live: 3-1
イベント詳細は近日中に発表します!
Live: 3-1+ more!?
3-1 is started in 1997 by Ivo Schmetz and Peter Rutten in Maastricht. They start with the plan to create a collective of artists, musicians, graphic/interaction designers and vj's. In 1998 they move to Amsterdam and base themselves in a old hospital building. In there they form a band, work on videos and start doing their first live shows.
After the hospital they move to another loaction and things seem to go to a next level. 3-1 keeps growing and develops their own style in music and video. In these days they come up with the term 'pistolpop'. This stands for the mix of electro, breaks, punk, acid, rock'n'roll, video, live performance and lots of energy and it gave 3-1 a very good live reputation. 'The crazy wild show from Amsterdam that makes everybody go insane'. A lot of energy on stage and always those little surprises. At this time Paul Rickus (video), Eline (performance), Saar (performance) and Krul (performance) have already joined the band to create these wild live shows.
Till now (2007) 3-1 has released 5 cds and did about 150 live shows the Netherlands, France, Germany, Spain, Belgium, Poland and Japan. Their videos got selected and published by several dvd labels and videofestivals worldwide and a little while ago they signed up with the 'hot' new record label Basserk. They released their first 12" (don't destroy) at the end of 2005. After that they released a track on the Basserk complation cd (some tunes) and in february 2007 they released their second 12" called 'take a picture'. All releases are distributed worldwide by Lowlands.be and by EPM (digital distribution) to Itunes and lots of other digital shops.
310k
More great eventsこちらもどうですか