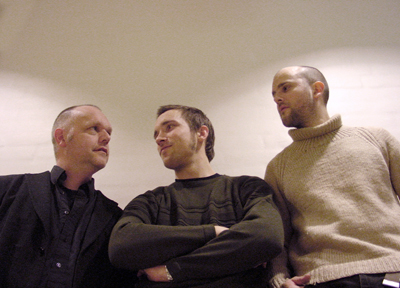 2008/02/03 日曜日日曜日
Sten Sandell TrioSten Sandell Trio
Open: 19:00:00 | Start: 19:30 - 23:59
Export:
予約する/Reserve
Sten Sandell Trio: Electronic Session
「ポリトーナル・リズミック・トータル・ミュージック」を自称するスーパートリオが初来日。北欧ジャズ/インプロ・シーンの重鎮ステン・サンデルは88鍵の域を超越し、ピアノの内蔵をもえぐり出しそうな勢いで弾きまくる名手。最近はエレクトロニクスやユニークなヴォイス・パフォーマンスも積極的に取り入れ、比類のない即興演奏スタイルを極めている。サンデルと同じくスウェーデン出身のヨハン・バットリングは日本でも人気の高いエレクトロ・アコースティック・ユニット、テープのリーダーとして知られるが、本来は豪快なジャズ・ベーシスト。ドラマーはノルウェーの怪物ポール・ニルセン・ラヴ。2月3日、スーパーデラックスに突風が吹き荒れる!
Sten Sandell TRIO 動画 1
Sten Sandell TRIO 動画 2
出演者情報:
ステン・サンデル (エレクトロニクス、ヴォイス、ピアノ)
MySpace
ヨハン・バットリング (ベース)
MySpace

ポール・ニルセン・ラヴ (ドラムス & パーカッション)
Wikipedia

Sten Sandell Trio: Electronic Session
LIVE: Sten Sandell (piano), Johan Berthling (bass /tape), Paal Nilssen-Love (drums/atomic, the thing)
Sten Sandell Trio
A Swedish-Norwegian trio featuring "total-polytonal-rhythmic-music." In other words: advanced modern jazz at its best...
The Sten Sandell Trio was formed in the spring of 1999 and has since worked regularly in Stockholm and Oslo. The trio is firmly in the tradition of European improvised music, and no other piano trio in Scandinavia plays music of such intensity and expression.
During several concerts at the Vancouver Jazz Festival in 2001, the trio debuted their CD Standing Wave (SOFA 504) which included music recorded at Club Blå and the Munch Museum in Oslo.
The press wrote:
"The biggest revelation of the festival was Sandells own trio, finding the pianist's menacing motifs hovering above Johan Berthling`s churning bass and the restless barrage of percussionist Paal Nilssen-Love, offering a startling contrast to the glorious weather outside" - Jon Morgan, The Wire.
"This is high-energy music that strikes deep rather than loud…Easily one of the best releases of this year" - Steven H. Koenig, Jazz Weekly
"It has a long time since I heard a jazz recording wherein the light is turned on as fast as on Standing Wave." - Arild R. Andersen, Aftenposten Aften
Sten Sandell TRIO video 1
Sten Sandell TRIO video 2
members:
Sten Sandell, Stockholm.
Sandell has collaborated with Evan Parker, Gush, Mats Gustafsson, Michael Zerang, Fred Lonberg Holm and many other top improvisers. He has played at many of the major jazz/improv-oriented festivals in Europe and North America. His style has been compared to Cecil Taylor's, but he has also been strongly influenced by contemporary music and composers such as Morton Feldman and John Cage. Sandell has been playing improvised music for almost 30 years.
MySpace
Johan Bertling, Stockholm.
In spite of his youth, Berthling has become one of the premier bassists in Stockholm's improvised music scene, working with Raymond Strid, Fredrik Ljungkvist, David Stackenås, etc. Influenced by William Parker, Berthling is a high-energy bassist and musician of many dimensions. In addition to bass, Berthling is adept at guitar and electronics, and leads the internationally acclaimed electroacoustic trio Tape.
MySpace
Paal Nilssen-Love, Oslo.
Nilssen-Love is one of Europe's most in-demand drummers. His high-energy pyrotechnical drumming has been heard with Atomic, Frode Gjerstad Trio, Element, the Peter Brötzmann Tentet, Scorch Trio, The Thing, School Days, Atomic, and many other groups.
Wikipedia
More great eventsこちらもどうですか