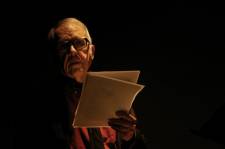 2008/10/17 金曜日金曜日
Japanese Cinema Eclectics日本映画撰集
Open: 18:00:00 | Start: 19:00 - 23:59
Export:
予約する/Reserve
日本映画の岐路に捧げるシリーズ
ドナルド・リッチーとスーパーデラックスがお届けするニューフィルム・シリーズ。
上演: 狂った果実 / 監督: 中平康、脚本: 石原慎太郎、出演: 石原裕次郎、津川雅彦、北原三枝、岡田真澄 (1956/86分)
Afterparty organized by TUJ Wakai Project, with live music and performances
ドナルド・リッチー
Pacific Stars and Stripes の特別記者として1974年に来日。占領時代後半リッチー氏は、ジャパンタイムズの映画評論家、芸術批評家として活躍。翌年、Films of Akira Kurosawa (1965)、Ozu (1974)、One Hundred Years of Japanese Film (2002) を含め数々の著書を出版。また、生涯60年間過ごして来た日本についてThe Island Sea (1971)、Japanese Portraits (1991)、最新刊 The Japan Journals (1947-2004) を含め40冊以上の著書を手掛ける。1968年から1973年にかけて、ニューヨーク現代美術館の映画館長を務める。Time紙によりリッチー氏は「日本芸術批評家の最高権威」と称され、Susan Sontag は「ドナルド・リッチーは類い稀なる視点で、鋭くしかも機知に富んだ方法で日本を描いている」と称している。
詳細についてのお問い合わせは、
テンプル大学日本校までご連絡下さい。
電話番号: 03-5441-9800 (ext. 709)
メール: icjs@tuj.ac.jp
FILM: Strange Fruit (Kurutta Kajitu)
Directed by Koh Nakahira, Written by Shintaro Ishihara with Yujiro Ishihara, Masahiko Tsugawa, Mie Kitahara, Masumi Okada. 1956, 86 mins.
Afterparty organized by TUJ Wakai Project, with live music and performances
Language: Introduction by Donald Richie in English
Film in Japanese with English subtitles
(film to be followed by a Q&A moderated by Donald Richie)
Japanese Cinema Eclectics official site
About the Film: Crazed Fruit (Kurutta Kajitsu)
Original Story and screenplay by Shintaro Ishihara. Photographed by Shigeyoshi Mine. Art Direction by Takashi matsuyama. Music by Toru Takemitsu. Directed by Ko Nakahira. With Yujiro Ishihara, Masahiko Tsugawa, Mie Kitahara, Masumi Okada.1956, 86min.
"Two brothers compete for the amorous favors of a young woman during a seaside summer of gambling, boating, and drinking."
-Criterion Collection-
A single showing of a seminal film of the 1950s in Japan, the one that heralded the later youth cults and has been described as "an anarchic outcry against tradition and the older generation." With its bold subject matter, its sultry sex, and its radical editing, it ushered in the Japanese "new wave" films of the 1960s.
-Donald Richie-
Donald Richie
Named by TIME magazine, "the dean of Japan's art critics," and acknowledged as the foremost authority on Japanese cinema, Donald Richie has also written widely - some forty books in all - on other aspects of the country and its people. The Inland Sea has been called a classic and its film version has won prizes at international film festivals as well as the National Geographic Earth Award. His Public People, Private People has been called "unforgettable" by Tom Wolfe and of his two collections of essays, A Lateral View and Partial Views, Susan Sontag has said: "Donald Richie writes about Japan with an unrivaled range, acuity, and wit."
Richie has lived in Japan for most of his life. Arriving on New Year's Day, 1947, he worked as feature-writer and film critic for The Pacific Stars and Stripes. After graduating from Columbia University in 1953, he returned to Japan as film citic for The Japan Times. He has written for Newsweek, The Nation, Variety, The New York Times, The Guardian, Harper's, Atlantic Monthly, and all major films magazines. In addition he presented the first retrospective of the Japanese film director Yasujiro Ozu at the 1962 Berlin Film Festival and has since acted as guest director of the Telluride Film Festival, and served on the juries at the Hawaii, Lacarno, Thessaloniki, and Kerala Festivals.
In addition to writing a column for The Japan Times, lecturing around the world, and continuing to lend his distinctive voice to Japanese studies, Donald Richie teaches film at Temple Universityfs Japan Campus.
Presented by the
Institute of Contemporary Japanese Studies
Temple University, Japan Campus
in Association with SuperDeluxe
More great eventsこちらもどうですか
2023/09/24 日曜日日曜日

JOLT, SuperDeluxe, and Test Tone present:JOLT Showcase《in 横浜 Yokohama》2023

Open: 15:00 | Start: 15:30 - 19:00

入場無料!Free Entry!
最先端のオーディオビジュアルとインタラクティブ・パフォーマンス
《会場》横浜 BankART Station (みなとみらい線「新高島駅」改札上 地下1F)
JOLT Arts returns to Japan to showcase cutting edge Japanese and Australian sound and video artists!!
VENUE: Yokohama BankART Station (B1F of Shin-takashima Station, Minatomirai Line)