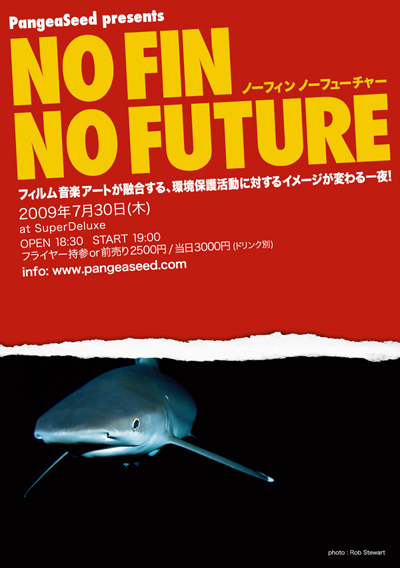 2009/07/30 木曜日木曜日
No Fin No FutureNo Fin No Future
Open: 18:30:00 | Start: 19:00 - 23:59
Export:
予約する/Reserve
4億5千年も前から生き続け、地球面積の3分の2以上を支配し続けてきた海の捕食者、サメ。しかし彼らは私たちの敵ではなく…HOPE (ホープ)なのです!PangeSeed 主催、この夏のスペシャルイベント『No Fin No Future』は、国際的なスケールで様々な人たちがコラボレーションし、サメ保護への認識を高めるために実現されます。
このイベントでは、国際的な賞を多数受賞したドキュメンタリーフィルム「シャークウォーター神秘なる海の世界」(カナダ・89分)を上映します。また、ゲストDJ・バンドによる演奏とサメ保護団体シャークエンジェルズ(US)のメンバーであるキム・マッコイさんのトークショーをお楽しみ頂けます。なお当日は、国際的に有名なアーティスト・デザイナー・写真家など30名以上の作品を、日本で初めて紹介し、販売された作品の売り上げはサメの保護に寄付されます。是非この新しいコラボレーションイベントに参加しませんか。
更なる詳細はPangeSeedウェブサイトをご覧下さい。
MySpace
参加アーティスト:
Arik Roper
www.arikroper.com

Caia Koopman
www.caiadesign.com

Chris Anthony
www.chris-anthony.com

Dave Kinsey
www.kinseyvisual.com

Ea Eckerman
www.eckermanstudios.com

Elena Gallen
www.elenagallen.com

Grant Myrdal
www.grantmyrdal.com

Josh Keyes
www.joshkeyes.net

Kathy Schorr
www.kathystaicoschorr.com

Kozyndan
www.kozyndan.com

Magmo The Destroyer
www.magmothedestroyer.org

Mr. Brainwash
www.mrbrainwash.com

Nathan Spoor
www.nathanspoor.com

Rhys Cooper
www.gigposters.com

Sara Folkman
www.sarahfolkman.com

Tim McKenna
www.tim-mckenna.com

Venom Palette
www.venompalette.com

PangeaSeed presents: No Fin No Future
They have survived for 450 million years. They control two thirds of our planet. They are worlds top predator. But sharks are not our enemy...they are our greatest hope.
Join us Thursday July 30 for the special event of the summer when PangeaSeed brings together and empowers an international grassroots effort to raise awareness to the threat of extinction of sharks on a national and international level.
PangeaSeed will showcase a non-profit fund raising art collection featuring never-before-seen art and photography from over 30 global artists such as Mr. Brainwash, Josh Keyes, Brad Klausen, Lola, Dave Kinsey and many more. Guests will enjoy a screening of the international award-winning documentary, "Sharkwater" followed by a discussion with leading shark expert, Ms. Kim McCoy of Shark Angels. Ms. McCoy will discuss her experience in working with sharks including research and education. She will also share with the audience underwater footage of swimming and interacting with large sharks from around the world.
With special live music performances and guest DJ's.
For more event and organization information:
www.pangeaseed.com
MySpace
Artist information:
Arik Roper
www.arikroper.com
Caia Koopman
www.caiadesign.com
Chris Anthony
www.chris-anthony.com
Dave Kinsey
www.kinseyvisual.com
Ea Eckerman
www.eckermanstudios.com
Elena Gallen
www.elenagallen.com
Grant Myrdal
www.grantmyrdal.com
Josh Keyes
www.joshkeyes.net
Kathy Schorr
www.kathystaicoschorr.com
Kozyndan
www.kozyndan.com
Magmo The Destroyer
www.magmothedestroyer.org
Mr. Brainwash
www.mrbrainwash.com
Nathan Spoor
www.nathanspoor.com
Rhys Cooper
www.gigposters.com
Sara Folkman
www.sarahfolkman.com
Tim McKenna
www.tim-mckenna.com
Venom Palette
www.venompalette.com
More great eventsこちらもどうですか
このカテゴリーにはまだないみたい / No events in this category