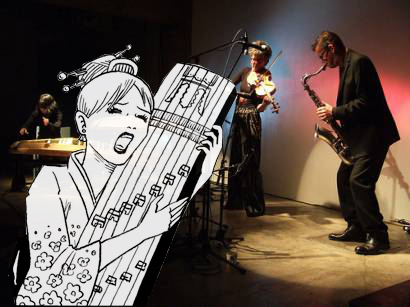 2009/10/29 木曜日木曜日
Floating WorldsFloating Worlds
Open: 19:00:00 | Start: 19:30 - 23:59
Export:
予約する/Reserve
SuperDeluxe 7th Anniversary!!!!!!!
with
Floating Worlds Trio Japan Tour
ユニークな楽器編成で多彩な音世界を綴るトリオ、フローティング・ワールズ("浮き世")が東京にやって来ます。オランダと日本のアーティストが新しい音楽を生み出します。その響きは異なる世界に育まれた豊かな交流の音色と呼べるでしょう。
メンバー: アブ・バース(tenor sax, clarinet, 尺八), イグ・ヘイネマン(viola), 八木美知依(20絃箏、17絃箏)
開場 19:00 / 開演 19:30
2007年 Baars+Henneman+Yagi 東京ライブ映像
("Tokyo I, II & III" をクリック)
 
ヨーロッパのジャズ/インプロ・シーンをリードするサックス/クラリネット奏者、アブ・バース。ジャンルを超えた作曲家としても名高いヴィオラ奏者、イグ・ヘイネマン。ポスト邦楽を担うハイパー箏(こと)奏者、八木美知依。ユニークな楽器編成で多彩な音世界を綴るトリオ、フローティング・ワールズ("浮き世")が東京にやって来ます。オランダ人2人、日本人1人からなるこのユニットは『日本オランダ年2008-2009』を機に、日本とオランダの4世紀にわたる深い知的交流をインスピレーションとし、ジャズやクラシックそして邦楽の要素はもちろん、オランダの子守唄や日本の俳句なども取り入れたオリジナル曲を聴かせます。さあ、あなたもオランダ商館長の出島から江戸への旅を想像しながら、音楽の冒険を楽しんでみませんか?
出演者詳細
本プロジェクトは、日本とオランダの4世紀にわたる関係を、音楽を通して回顧・祝福する試みです。 異なる世界どうしの持続的で実り豊かな交流のありようを示すものとなるでしょう。
SuperDeluxe 7th Anniversary!!!!!!!
with
Floating Worlds Trio Japan Tour
The music of the Floating Worlds Trio is a dynamic combination of composition and improvisation (played, sung and spoken) that includes modern interpretations of traditional Japanese music, Dutch nursery-rhyme, haiku, and poetry.
Members: Ab Baars (tenor sax, clarinet, shakuhachi), Ig Henneman (viola), Michiyo Yagi (17-string & 21-string kotos)
Open 19:00 / Start 19:30
Video of Baars+Henneman+Yagi Live in Tokyo 2007
(see "Tokyo I, II & III")
The 'floating world', a world adrift, primarily refers to the days of courtisane prints that were part of the Edo era. But floating worlds are also worlds of endeavour, of dreams and continuous change, and they imply 'otherness' and how to look at it, as well as casting a different eye at the familiar.
A source of inspiration for Floating Worlds is the so-called 'Hofreis', a journey from Dejima (Nagasaki) to the military rulers in Edo (Tokyo), undertaken annually from 1609 by successive Dutch commanders. Each commander paid his respects, offered gifts and informed the Shogun about developments in the Western world. These perilous journeys, which often took months and months, figure in several diaries and official reports. The exchange of information between Japanese and Dutch representatives proved to have a significant impact on science, art and culture.
The remembrance and celebration of 400 years of trade relations between Japan and the Netherlands call for this new, 21st-century Hofreis, now undertaken by Baars, Henneman and Yagi. Their artistic cooperation reflects a longstanding and fertile interchange between two entirely different worlds.
Floating Worlds official website
Artist info
Ab Baars Myspace
Ig Henneman Myspace
More great eventsこちらもどうですか