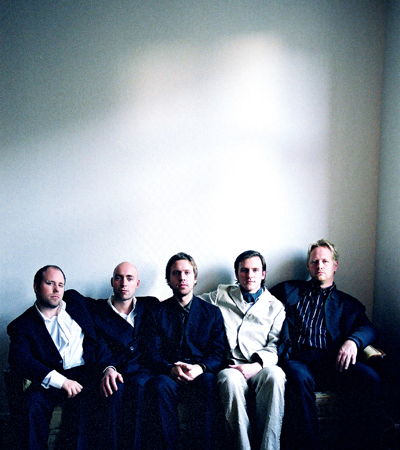 2010/02/23 火曜日火曜日
Zanussi 5Zanussi 5
Open: 19:30:00 | Start: 20:00 - 23:59
Export:
予約する/Reserve
Zanussi Five
ノルウェー出身のZanussi Fiveは3人のブラスセクションとベース、ドラムの5人組。ミニマルミュージックも内用したコンテンポラリーな楽曲は北欧ジャズシーンの真骨頂を感じさせる。是非とも会場で体感して下さい。 そして、オープニングアクトとして、Jazz, Funk, Blues, Breakbeats & Soul サウンドをミックスした新しいスタイルのジャムバンドLo-Fiが登場。
Opening Act: Lo-Fi
北欧ジャズアンサンブルの真骨頂と呼べる「Ornitheology」と「Balatron」は必聴!
Per Zanussi MySpace
Per Zanussi HP
コンセプトは「シンプル」「リズム」「ソウルフル」アレンジは自由に
Jazz Funk Blues Breakbeats & Soul サウンドをミックスした新しいスタイルのジャムバンドLo-Fiはジャンルを超えた音を持つバンド。更に、Lo-Fi積極的に音楽以外のアートともコラボ レーションを展開している。D'angelo、 G.Love、Mos Def、Common、等のサウンドを連想させるLo-Fi のリーダー"5"(ヒロセ・ゴウ)のボーカルスタイルはBlues色が強く、Funkyなリズムが英語の歌詞を言葉が分からない人にも楽しく聴ける力があ る。Lo-Fiは2009年初めに、 itunes jazz albumランキングで2位を記録し、夏前には新しいアルバムを発売する。勢いのあるトリオは、ライブで様々なゲストを迎えて新しいアレンジを常に積極的 に取り組んで進化している。新アルバムを制作するプロセスの中で元ベースのQuengoを土台にした構成から、現在はドラマーYOSHのパワーのあるドラ ムと新たに加わったメンバー、Nori(キーボード)が新しいLo-Fiのサウンドを構成する。
メンバー
Goh Hirose (Vocal Bass Guitar)
Nori (Keyboards Vocals Piano)
Yosh (Drums Vocals Percussion)

Zanussi Five
Three of Norway's leading sax players – Kjetil Møster, Rolf-Erik Nystrøm and Jørgen Mathisen plus bass player Per Zanussi and drummer Gard Nilssen play an energetic and surrealistic mix of beautiful melodies, improvisation, grooves and acoustic noise. Jørgen Mathisen, one of the top young players in Norway, adds a rough, rock-like feel to the group. This contrasts Rolf Erik Nystrøm's elegant, contemporary- music-like playing and Eirik Hegdals melodic-lyrical baritone. This unusual horn section alternates between creating virtuosic cacofony, funky riffs, percussive soundscapes and beautiful layers of sound.
Opening Act: Lo-Fi
"This music is vibrant, fast, and very modern. It is expressionistic, replete with saxophones that sigh, moan, honk, and howl. At the same time, it bursts with energy and swing. It's also utterly unpredictable."
-Marc Meyers, All About Jazz
Together with one of Norway's most talented jazz drummers, Gard Nilssen, they give life to Per Zanussi's compositions which sound like a cross between free jazz, fifties exotica, contemporary improv, funk, film music and afrobeat.
The band projects a tremendous energy and joy of playing, resulting in ecstatic audiences at their concerts. Since the beginning in 2001 Zanussi five have played a lot of concerts in Norway, Sweden, Finland and Canada as well as Molde jazz festival, Nattjazz festival, Maijazz festival, Porijazz, Bordeaux Jazz Festival, Rochester Jazz Festival, Edmonton and Vancouver Jazz Festivals.
Zanussi Five release their two first records on the Swedish Moserobie Label run by sax player Jonas Kullhammar, receiving brilliant reviews. The records are distributed by Disk Union in Japan. In february/march two more are coming: One as a quintet and one as a 12-piece band with the Trondheim Jazz Orchestra.
Voted "Best Jazz Band", "Best new Jazz Record" and "Best Live Concert" by one of Norways biggest newspapers for.
Zanussi Five MySpace
Biography:
Per Zanussi
Born in 1977, Per Zanussi grew up in Stavanger (the free jazz capital of Norway) with an Italian father and Norwegian mother. He started playing various instruments at five but picked up the bass at 13 playing in rock bands. After discovering jazz he quickly switched to double bass.
In 1996, while still a student in Trondheim he founded the electronic project Wibutee together with Håkon Kornstad and Wetle Holte.This outfit recorded 3 albums with Zanussi and toured most of the world in the following years.
In 2001 he founded his longest lasting project to date, Zanussi 5, playing Zanussi's compositions in an acoustic format. This group has recorded 2 albums and 2 more are on their way: One as a quintet and one as a version of Trondheim Jazz Orchestra, a twelve piece group.
Zanussi has a Masters degree in music from the Conservatory in Trondheim and the Norwegian Academy of Music, Oslo, concentrating on double bass and composition.His compositional work has so far resulted in music for prize winning theatre and dance performances and short films as well as the comission for Trondheim Jazz Orchestra and Zanussi 5 .
In addition to Zanussi Five he is a member of MZN3, Trespass Trio (with Martin Kuchen and Raymond Strid), Crimetime Orchestra and several other projects.
Zanussi has recorded or played on occasion with Hamid Drake, Louis Moholo, Paal Nilssen-Love, Bobby Bradford, Frode Gjerstad, Sabir Mateen, Franklin Kiermyer, Stephen O'Malley, Axel Dörner, Klas Nevrin, Fred Lonberg-Holm, Bugge Wesseltoft, Sten Sandell, Mats Gustafsson, Seijiro Muriyama, Raymond Strid, Sten Åke Holmlander, Kjetil Møster, David Stackenäs, Kjell Nordeson, Terrie Ex, Kevin Norton, Ivar Grydeland, Ernesto Rodrigues, Tetuzi Akiyama, Håvard Wiik and others.
Per Zanussi HP
Per Zanussi MySpace
Jørgen Mathisen
(tenor sax, clarinet, soprano sax, perc)
plays with projects like The Core, Humvee, and Trondheim Jazz Orchestra. He also has a close collaboration with american drummer Franklin Kiermyer.
Rolf Erik Nystrøm
(alto sax,sopranino)
is classically trained and plays, in addition to being a soloist with chamber ensembles and orchestras, with Poing, Hero and his own solo project. Probably one of the world's top players of contemporary music on saxophone.
Eirik Hegdal
(baritone sax,soprano sax)
has led Trondheim Jazz Orchestra for the last years, performing with Joshua Redman amongst others . Hegdal also plays with Brat, Dingobats and Skomsork.
Gard Nilssen
(drums and percussion)
has been one of Norway's most talented drummers for the last years, performing with bands like Humvee, Bushman's Revenge et. al.
Some reviews of "Alborado":
"...This is luxuriant, contemporary jazz.." (5/6 points)
Terje Mosnes, Dagbladet, Norway
"...some of the most exciting Norwegian jazz..."
Roald Helgheim, Dagsavisen, Norway
"...A worthy successor to last year's critically acclaimed album..." (5/6 points)
Arild Andersen, Aftenposten, Norway
"...one of the most original acoustic jazz bands at the moment..." (5/6 points)
Tor Hammerø, Nettavisen, Norway
Lo-Fi
a mixture of cultural influences turned into a soulful mix of sound....
Lo-Fi is a unique trio from Tokyo Japan that puts together a wide range of music styles together into a collage of funky vibes and rhyme. Bass/Vocalist and song writer 5(Goh) has spent most of his life constantly moving from on e place to another. This experience has helped in shaping the music created by the band. Although their foundation lies in soulful grooves, both live and recorded they change grooves freely, not restricted by any one genre on their sonic journey.
Goh Hirose (Vocal Bass Guitar)
Nori (Keyboards Vocals Piano)
Yosh (Drums Vocals Percussion)
More great eventsこちらもどうですか
2023/09/24 日曜日日曜日

JOLT, SuperDeluxe, and Test Tone present:JOLT Showcase《in 横浜 Yokohama》2023

Open: 15:00 | Start: 15:30 - 19:00

入場無料!Free Entry!
最先端のオーディオビジュアルとインタラクティブ・パフォーマンス
《会場》横浜 BankART Station (みなとみらい線「新高島駅」改札上 地下1F)
JOLT Arts returns to Japan to showcase cutting edge Japanese and Australian sound and video artists!!
VENUE: Yokohama BankART Station (B1F of Shin-takashima Station, Minatomirai Line)