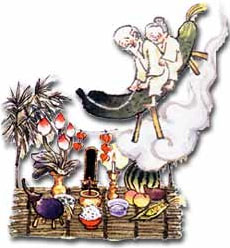 2010/08/14 土曜日土曜日
Closed for Bon Holidaysお盆休み
Open: 00:00:00 | Start: 00:00 - 23:59
Export:
予約する/Reserve
Please come again!



Bon Festival is a Japanese Buddhist holiday to honor the departed spirits of one's ancestors. This Buddhist festival has evolved into a family reunion holiday during which people from the big cities return to their home towns and visit and clean their ancestors' graves. Traditionally including a dance festival, it has existed in Japan for more than 500 years. It is held from July 13 (August 13 according to the lunar calendar still observed in many regions) to July 15 ("Welcoming Obon" and "Farewell Obon" respectively) in the eastern part of Japan (Kantō), and in August in the western part. In recent years, however, most parts of Tokyo, and by extension, the media, hold Obon in August to coincide with the summer holiday period. Obon shares some similarities with the predominantly Mexican observance of el Día de los Muertos, such as customs involving family reunion and care of ancestors' grave sites. - wikipedia

More great eventsこちらもどうですか
2022/10/16 日曜日日曜日

SuperDeluxe presents: SupernaturalDeluxe Vol.2八木美知依 Michiyo Yagi

Open: 16:30 | Start: 18:00 - 19:00

前売/Advance: ¥3500 | 学生/Student: ¥2500 | 当日/Door: ¥4000
邦楽から前衛ジャズ、現代音楽、プログレッシヴ・ロックまで幅広い分野でワールドワイドに活躍するハイパー箏奏者 八木美知依が南房総に初登場!
チケット販売開始しました!
Join us for this first-ever performance in southern Chiba by one of the premier virtuosos of the Japanese transverse harp known as the koto!
Tickets On Sale Now!