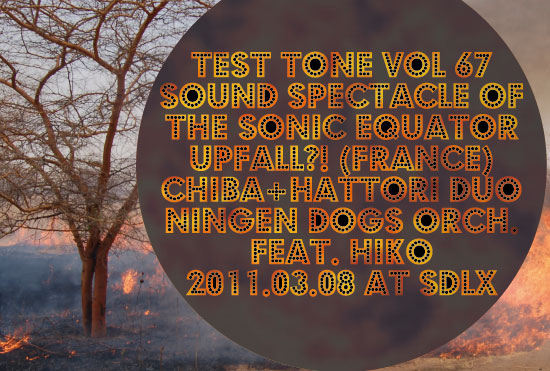 2011/03/08 火曜日火曜日
Test ToneTest Tone
Open: 20:00:00 | Start: 20:00 - 23:59
Export:
予約する/Reserve
Test Tone vol. 67
Sound Spectacle of the Sonic Equator
Featuring: upfall?! (from France)、千葉広樹・服部マサツグ デュオ、人間ドッグオーケストラ+HIKO (GAUZE) and DJ Evil Penguin
出演者情報:
upfall?!

myspace
千葉広樹・服部マサツグ デュオ
人間ドッグオーケストラ+HIKO (GAUZE)

人間ドッグオーケストラ: Homepage
HIKO: Homepage
DJ Evil Penguin
About Test Tone….
SuperDeluxeで毎月第2火曜日フリーチャージにて開催されているテストトーン。クラブミュージックを中心に、インプロ、ジャズ、民族音楽、ラウンジ、ロック、ジャンルを超えた様々なバンド、ライブミュージシャンが出演している人気イベント!またVJ、ダンサーなども頻繁に出演。映像と音楽、音楽とパフォーマンスなど、様々なコラボレーションも頻繁に行っており、クオリティの高いパフォーマンスを目の当たりにする事が出来る。
Test Tone vol. 67
Sound Spectacle of the Sonic Equator
Featuring: upfall?! (from France), Hiroki Chiba + Masatsugu Hattori Duo, The Ningen Dogs Orchestra feat. HIKO (GAUZE) and DJ Evil Penguin
Test Tone Homepage
Cal Lyall and Yasufumi Suzuki Special Interview!! (JP only)
Artist information:
upfall?! (from France)
If this guitar/drum twosome wasn't stepping off a plane from Lyon, I would swear by their genre-clobbering intensity they were Japanese. Paranormal rhythms meet noise-infused math rock for something of weird, proto-punk proportions.
On their first Japan tour, they take their frenetic head-bobbery deep into the noisy hole of SuperDeluxe. All the mindmelting that's (presumably) acceptable on a Tuesday night.
myspace
Hiroki Chiba + Masatsugu Hattori Duo
With a firm grasp of jazz tradition, drummer and vibraphonist Masatsugu Hattori took his percussion work straight into the new millennium with a range of projects, such as electroacoustic unit Ryusenkei Body, jazz-electronica unit Zycos, and conceptual electronica with Aktion Directe.
These days he has taken a minimal musical approach to percussive forms, becoming a perfect foil for the dense double-bass textures of mercurial bass/electronics wizard Hiroki Chiba (Isolation Music Quartet, They Live, Hose II, etc.)
The duo will explore some stark and challenging territory, but you might also find some new dance moves when the rhythm breaks into dangerous groove-like splinters.
Masatsugu Hattori: blog
Hiroki Chiba: Homepage
The Ningen Dogs Orchestra featuring HIKO (GAUZE)
Everybody knows that if humans live with animals long enough, they eventually start to resemble each other. These anthropomorphic circuit-bent canines take it one step further. Not only do they creepily resemble their human counterparts, but they've been loaded with twisted electronics that have them flipping, barking, and chasing their transistor tails.
Conducted by 23N! (of modified-toy noise-improv unit Droise) and the charming 'super utako', the noise should meld with the yip and the yap of this singular orchestra for an altogether different kind of petting zoo.
To bring an extra order of chaos to the unlikely proceedings, HIKO (of legendary hardcore outfit GAUZE) will handle duties for the Orchestra, his kit aptly decked out with a plethora of light/sound triggers for maximum sensory assault.
The Ningen Dogs Orchestra: Homepage
HIKO: Homepage
DJ Evil Penguin
Master of disguises, Mexican top-hats, ambient rockabilly to minimal Hawaiian Kumulipo chants, the Evil Penguin poses the primordial question of evanescence against a backdrop of New Wave folk. Celebratory, subliminal, moment-to-moment. A Tasmanian treasure with a penchant for open spaces.
About Test Tone
A monthly experiment offering irregular art, music and performance in Tokyo.
The Test Tone series aims to offer a venue for diverse and challenging artists to bring their ideas to a larger community. As a free event open to the public, we hope to bypass the old economies in order to create new ones, while encouraging collaboration in all forms. A collage of media, sound and art in a space available to anyone off the street, the event is a bazaar of potential collisions, where passersby are treated to the unexpected.
For all of this, we found our home base at Super Deluxe, a unique space in Tokyo's midtown, providing a relaxed atmosphere within its modular interior. The event continues to be a celebration of off-kilter creativity in the city: from installation pieces to performance art and visual collaborations; from noise, electronica, ambient sounds and free rock to disorderly jazz and manipulated field recordings. To date, close to 500 artists have been a part of the event, together creating opportunities for unexpected improvisation, collaboration, and festival spirit.
More great eventsこちらもどうですか