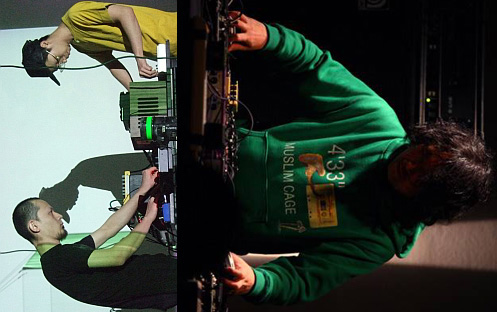 2011/03/24 木曜日木曜日
HAIR+CARRE Postponedヘア+CARRE←開催延期
Open: 00:00:00 | Start: 00:00 - 23:59
Export:
予約する/Reserve
「ヘア・スタイリスティクス(a.k.a. 中原昌也)& CARRE 合体ライブ !!!」開催延期のお知らせ
本公演は地震の影響と公演開催時における電力の使用、交通機関の状況を考慮致しまして「開催延期」を予定しております。
SuperDeluxe 営業再開宣言!
はじめに、2011年3月11日(金)に発生した東北地方太平洋沖地震において、被災地の皆様に心よりお見舞い申し上げるとともに、犠牲になられた方々とご遺族の皆様に対し、深くお悔やみを申し上げます。
SuperDeluxeも会場の開催をしばらく中止しており日頃よりご支援いただいている皆様には多大なご心配とイベント中止というご迷惑をおかけ致しました事を深くお詫び申し上げます。
営業の再開に関しまして工学博士、構造設計一級建築士の点検も行い、地下フロアであるSuperDeluxe、ならびに当ビルにおいて構造的な問題が発生していないことを確認の上、3/21(月曜祝日)より通常営業を再開いたします。
なお営業再開に際して首都圏の電力不足、交通状況を配慮の上、営業時間を短縮前倒しするなど営業時間に変更が生じます。あわせて、今後、開催を予定されていました公演で中止/延期/変更の生じるものがございます。最新情報は常時HP、Twitterにて告知して参ります。常時更新するよう努めてまいりますのでご来場のお客様はどうぞスケジュールをご確認の上、ご来場下さいますようお願い申し上げます。
各所で桜が咲き始めた東京でまたこうして音楽を届けられる事をとても嬉しく感じております。 今後ともSuperDeluxeどうぞよろしくお願い致します。皆様のご来場をこころよりお待ち申し上げております。
SuperDeluxeスタッフ一同
—-
出演者情報:
ヘア・スタイリスティクス(a.k.a. 中原昌也)

boid
CARRE
"HAIR+CARRE" event has been Postponed due to the earthquake and related transportation halts. Be safe everyone and we hope to see you soon.
HAIR STYLISTICS (a.k.a. Masaya Nakahara) & CARRE join forces to present an unholy trio of amalgamated industrial, analog and electronic mayhem!!! you can dance if you want to... everybody look at your hands!!
SuperDeluxe to Reopen on 3/21!
First of all, we would like to offer our heartfelt condolences to all of those who were affected by the Kanto-Tohoku Earthquake. Our hearts go out all of the victims whose lives were lost in this horrible tragedy and to those who still continue to struggle in its wake.
As a result of the disaster, SuperDeluxe has been closed for the past several days with many events cancelled. We send out our sincere thanks to all of you who inquired about our well being; please know that our entire team is all safe and well. We also apologize for any inconvenience caused by event cancellations.
After having our building inspected by engineers and other experts, we have established that there has been no structural damage to our space and it is safe to open again. As a result, we will be resuming business on Monday, March 21.
Because of limitations on electricity and irregular train schedules, we will be running on abbreviated business hours. As a result, events that are already planned may have schedule changes, while others may be postponed or cancelled. We will post up-to-date information on each event on
our website
as well as through
Twitter
, so please check with us before you come out for an event.
The cherry blossoms that are beginning to bloom in Tokyo bring a sense of hope, and it is in this spirit of new beginnings that we resume our mission of bringing music and art back to the city as well.
We look forward to your continued support and look forward to seeing you all soon.
Thanks and best wishes to all.
The SuperDeluxeTeam
----
Artist information:
HAIR STYLISTICS (a.k.a. Masaya Nakahara)
boid
CARRE
MGMD | CARRE
myspace
More great eventsこちらもどうですか
このカテゴリーにはまだないみたい / No events in this category