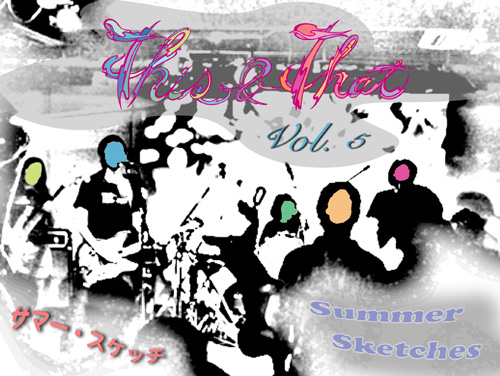 2011/08/11 木曜日木曜日
This&ThatThis&That Café Vol.5
Open: 20:00:00 | Start: 20:00 - 23:59
ドリンク込み/Drink included
Export:
予約する/Reserve
This&That Café(あれやこれやカフェ)Vol. 5
「サマー・スケッチ」
熱いですね。This&Thatで、冷たい飲み物を飲みながら、クールな音楽とアートを楽しもう!気持ちいいぞ!
出演:Metro Ongen、Moss、Remedy's Library、SARAH(ボリウッド・フュージョン・ダンサー)、DJ Ahimsa、柏原 晋平(Live Art)、山本大輔(ライブ・ペイント)、24コマ(自主制作作品上映)
出演者情報:
Metro Ongen

童謡のようなメロディーと華やかなコーラスワークを活かした楽曲がテレビジョンやブロンディに例えられ、ミナミホイールフェスでは入場規制となる。ベルセバ、ティーンエイジファンクラブを手掛けたデイビッド・ノートンをプロデューサーに迎え、青春の喪失を正直な言葉で綴ったアルバム「EDEN」2011年4月6日全国発売。埋まらない寂しさの答えが"エデン"にある。
metro-ongen.com
Moss

2007年に結成、2011年から東京をベースに活動中のアコースティック&エレクトロニックバンド。ロックとファンクをブレンドしつつメロディーに熱い情熱を注ぐ彼らの暖かいサウンドは音楽好きにはたまらない。
growonrock.com
Remedy's Library

2010年9月、ちょっとした運命のいたずらで東京で結成されたタイローン・テル&ミワ。「T」から始まる名前の二人は以前からあまりイケテないバンド名を背負いながら一緒に演奏してきた。ちょうど色々と軌道にのっていたところで、タイローンは母国イギリスに帰った(ビールのためにと作曲のため。。。)。テルは日本に残り、最新のiphoneで遊んでいた。。。帰ってくるとミワの情熱的な歌声がサイバースペースから響き渡って聞こえてきた。こうしてトリオが結成され、いまのところ予報は好「音調」。これからも沢山のメロディーが期待できるだろう。
Homepage
SARAH

幼少よりダンスや演劇で舞台に立つ。ベリーダンスと出会い、Somayya、タカダアキコに師事。もう一つのルーツであるインドボリウッド・フュージョン・ダンスでは、coco鮎美(日本)、Ajay(インド)に師事。インド古典舞踊カタックでは、前田あつこ(日本)、Akhilesh(インド)に師事。宇川直宏氏が主宰するライブストリーミング番組「DOMMUNE」にて、「BOLLYWOODOMMUNE!」をオーガナイズし、自身もダンスで出演。また、2011年4月よりインドLIC Nomura MF社のTVCMにボリウッドダンサーとして出演し、コレオグラフィー(振り付け)も担当。2011年5月ダンス修業のため単身インドに渡る。今後も年に数回渡印し、インドのホテルショーでのパフォーマンスも予定されている。
myspace
Ahimsa

8年間以上8カ国以上のたくさんの都市で活動を続けるAhimsa。インド人を先祖に持つの彼はエキゾチックなサウンドを好み、ディープベースのエレクトリックフュージョンを独自のセンスでプレイする。また、インディアン・フュージョン、ダブ、グリッチなどを得意とする為、東京のベリーダンスシーンでも活躍中。「Parties for Peace」のレギュラーでもある。最近はニューヨーク、サンフランシスコ、シアトルのアーティストのミックスに取り組む。そんなAhimsaの2011年のリリースをお見逃しなく!
ahimsalove.com / soundcloud
柏原 晋平

画家・デザイナーとして様々な企業との仕事を手掛ける。墨、アクリルガッシュ、ペンキ、クレヨン等を使った平面作品の制作から、ミュージシャンとのライブパフォーマンス、テキスタイルデザイン、アートディレクションに至るまで、その表現は多岐に亘る。中でも「椿」を主題とした植物画は国内外の個展やオークションでも高い評価を得ている。
kashiharashinpei.com
山本大輔

輪派絵師、映像作家、ペインター。時間、空間、植物、動物、変化をテーマに、少しの遊び心をもって制作に活動を続ける。
輪派絵師団
24コマ

東京を拠点にしている映像作家によるフィルム・コーナー。キュレーション:池松ひろ
This&That Café(あれやこれやカフェ)
This&That Caféは、あらゆるジャンルやバックグラウンドのアーティストが共有の精神のもと時間と作品を持ち寄る、という一般公開の無料イベントです。ここは音楽とヴィジュアル・アートが思いがけないコラボレーションで融け合う場所。東京という濃密で幅広い才能の海で、遠方からのアーティストが現地の輝く才能に出会う、アーティストのためのフォーラム。古い友人と新たな知人が入り混じったコミュニティは、人が集まり、アイディアが飛び交い、アートの傾向や好みが共有され、詩が生まれる場。早めに来て席に着き、SuperDeluxeのおいしそうなメニューを楽しむのもよし。仕事帰りの一杯にちょっと寄るのもよし。みんな大歓迎です。今後のThis & That Caféの企画についてアイディアがあれば、<thisnthat@tokyodex.com>へ一言メッセージをください。新しい、刺激的な表現の場を探しているミュージシャンやDJ、ビジュアル・アーティストからの連絡をお待ちしています。
This&That Café Vol.5
"Summer Sketches"
Yeah, we know, it's hot. Come have a cold drink, listen to some chill tunes and see some cool artwork. Feel better yet?
Featuring: Metro Ongen, Moss, Remedy's Library, SARAH (Bollywood Fusion), DJ Ahimsa, Kashihara Shimpei (Live Art), Daisuke Yamamoto (Live Art), 24 Frames Per Second (Independent films)
Artist information:
Metro Ongen

Metro-Ongen were formed in Tokyo in 2002. Combining lullaby melodies and lush harmonies with a new-wave sound that has been compared to Blondie and Television, Metro-Ongen have steady gained a devoted fanbase across Japan. One show at Osaka's Minami Wheel Festival (the Japanese answer to SXSW) was so over-crowded fans had to be turned away. Moreover, with regular VJ performances at their shows and a poster design that won a 2010 New York design award, the band are
evolving into an art collective under the banner Team M-O.
metro-ongen.com
Moss

Based in Tokyo, Moss have been gigging as an acoustic and electric band since 2007. Blending rock, funk, and a passion for melodies, Moss leaves the you with a warm glow that you just can't resist.
growonrock.com
Remedy's Library

Remedy's Library formed in Tokyo, September 2010 by twist of fate. The two people whose names begin with T had previously worked together under terrible guises. Things were on a roll but Tyrone returned home for a while to his native Engerland to fatten up and write some candypop. Teru stayed in playing with his iPhone. On returning, Miwa's sultry vocals could be heard echoing around the nicer parts of cyberspace. A trio was born and the forecast is tuneful. More melodies
expected. xxxx
Homepage
SARAH

SARAH began dancing and performing on stage at an early age. Later on, she encountered belly dance and learned under Somayya and Akiko Takada. She has participated in many workshops by foreign instructors and dances in a wide range of styles such as Oriental, Gypsy(Romani), and Tribal Fusion. From belly dance, she became intrigued with Indian
Bollywood Fusion Dance which she learned under COCO Ayumi and Shyrien. In March of this year, she appeared as a Bollywood dancer and acted as a choreographer in an LIC/ Nomura MF television commercial, now broadcasting in India since April 2011. She performs in clubs, outdoor dance events, and restaurants across Tokyo.
myspace
DJ Ahimsa

Ahimsa has been playing for over 8 years, and in over 8 countries in numerous cities. Coming from an Indian background he likes to weave in exotic sounds into his sets. Playing an eclectic fusion of deep bass driven quirky techhno, sometimes with an electro/tech house side to his mixes depending upon the event, always with a unique ethno-dub-spacey-fusion edge. You can also see him at many of Tokyo's bellydance events, playing bellydance and indian fusion/dub/glitch with similar style. Recently working on many remixes for artists in New York, San Franciso and Seattle. Stay tuned for Ahimsa releases in 2011. Click the SoundCloud link below to have a taste. He is also a regular at the amazing "Parties for Peace" events, alongside some of Tokyo's finest, raising awareness for global issues while having a rockin' good time!!
ahimsalove.com / soundcloud
Kashihara Shimpei (Live Art)

KASHIHARA SHINPEI is an artist and designer whose works are based on the traditional Japanese art form of "suiboku-ga" (ink painting). Mixing media such as ink, acrylic gouash and crayons, his works evoke an eastern sense of beauty. Works include interior decoration, live paint performances in collaboration with musicians and textile design. He has had many successful exhibitions within Japan and overseas and his tranquil yet powerful works are held in high regard. Kashihara aims for further communication and cultural development through his artwork.
kashiharashinpei.com
Daisuke Yamamoto

An original member of Rinpa Eshidan, Daisuke Yamamoto is a painter, woodblock-print maker and video artist. His work aims to capture the metamorphosis of nature, time, space and all living things.
rinpaeshidan.jp
24 Frames Per Second

A local filmmakers corner curated by Hiro Ikematsu.
This&That Café
This&That Cafe is a free event open to the public in which artists from all genres and backgrounds donate their time and talents in the spirt of sharing. It is a place where music and visual arts meld in unexpected collaborations. A forum for artists from afar to meet with local luminaries amidst the dense and eclectic pool of talent in Tokyo. A venue to gather, exchange ideas, share artistic inclinations and wax poetic in a causal community of old friends and new acquaintances. Come early to get a seat and take advantage of the fetching fare on the SuperDeluxe menu, or just pop in for a drink on your way home from work. All are welcome. If you have an idea for a future This & That Cafe event, please drop a line to <thisnthat@tokyodex.com>. We look forward to hearing from musicians, DJ, visual artists et al looking for a new and exciting venue for their expressions.
More great eventsこちらもどうですか
このカテゴリーにはまだないみたい / No events in this category