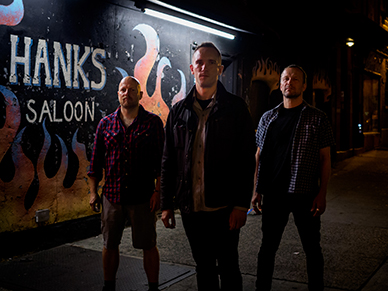 2015/12/05 土曜日土曜日
THE THING Day 1THE THING Day 1
Open: 19:00:00 | Start: 19:30 - 23:59
Export:
予約する/Reserve
出演:
THE THING:
マッツ・グスタフソン(alto, tenor, baritone and slide saxophone, live electronics)
インゲブリグト・ホーケル・フラーテン(double bass and bass guitar)
ポール・ニルセン・ラヴ(drums)
坂田明(alto, clarinet, voice)
PAINJERK(electronics)
出演者詳細:
THE THING
Mats Gustafsson – alto, tenor, baritone, live electronics
Ingebrigt Håker Flaten – double bass and bass guitar
Paal Nilssen-Love – drums
After forming in 1999 as a Don Cherry recording project, Scandinavian garage jazz trio The Thing soon established themselves as one of the most important European jazz groups, playing a variety of compositions, including material by PJ Harvey, Albert Ayler, The White Stripes, Steve Lacy, The Stooges, The Sonics, The Cramps, Lightning Bolt and The Ex. They transformed the music of these artists into a contemporary context, making it their own. As individuals or as a group, they have collaborated with those including, Peter Brötzmann, Sonic Youth, Jim O'Rourke, Thurston Moore, David Grubbs, Eye, The Ex, Pat Metheny, Arto Lindsay, Steve Reid, Kieran Hebden, Merzbow, Christian Marclay, The Nomads, Guy Picciotto, Neneh Cherry and more, all activities fueling the music of The Thing to become what the group is all about.
After more than 600 concerts around the globe, five studio albums including their collaborative release with Neneh Cherry, a variety of live releases over the years, in 2013 The Thing presented their sixth studio album, BOOT! as the first release on their new label, The Thing Records. Since then they've released two EP's, a live recording with Thurston Moore 'LIVE' and re-released their classic albums 'Garage' and 'Mono'. With dedicated fans in the rock, noise and jazz communities, The Thing continues to take the music to new, uncompromising levels and continues to solidify their important position in the contemporary independent music world. Event top photo by Peter Gannushkin.
![/sdlx/151205-MatsZiga.jpg](/sdlx/151205-MatsZiga.jpg)
Mats Gustafsson is one of Europe's biggest names on the music scene. Through groups like Gush, AALY trio, Fire! and Peter Brötzmann`s Chicago Tentet, he has established himself as a very powerful saxophonist, and has somewhat reinvented the way of playing the saxophone. In 2011 he received the Nordic Council Music Price: the largest price for a musician in the Nordic countries. Photo by Ziga Koritnik.
![/sdlx/151205-IngebrigtZiga.jpg](/sdlx/151205-IngebrigtZiga.jpg)
![/sdlx/151205-PaalZiga.jpg](/sdlx/151205-PaalZiga.jpg)
Ingebrigt Håker Flaten and Paal Nilssen-Love have become known as Norway`s heaviest rhythm-section. Since their long-time collaboration started in 1992, they have been working together in several groups like School Days with Ken Vandermark, Scorch trio with Raoul Björkenheim, and the Swedish/Norwegian jazz-group Atomic. Photos by Ziga Koritnik.
坂田明
![/sdlx/121218-sakata.jpg](/sdlx/121218-sakata.jpg)
広島県呉市広長浜生まれ。広島大学水畜産学部水産学科卒業後、1969年に上京し「細胞分裂」を結成。1972年から1979年にかけて山下洋輔トリオに参加し、1979年末まで在籍。激しいサックス演奏で知られるようになる。同トリオを脱退後は、さまざまなグループの結成・解体を繰り返し、2000年から「坂田明mii(みい)」を中心に活動。現在は「坂田明Trio」、「坂田明&chikamorachi」でのレギュラーユニットの活動と同時に、内外のミュージシャンとのフリー・セッションを行なっている。
[坂田明 homepage](http://www.akira-sakata.com/)
PAINJERK
1963年生。パンク、ノー・ウェーヴなどに感化されるもバンドという幻想に幻滅。1984年からカセットMTRを使い自宅録音を開始。90年代初頭ペインジャーク名義で活動を公式化した。あらゆる政治的、宗教的、組織的観念に服従する事を拒絶したアンダーグラウンド活動を展開。従来の「完成された作品」という制作概念を取っ払い、無数の非芸術的カセットテープのゲリラ的自主リリースを行った。又、ヴァイナル、CD等も海外の諸レーベルから発表。ライブ活動も国内のみならず継続中。2007年の米国NYCで開催されたNo Funフェスティバルでは、初日のヘッド・ライナーを務めたが、演奏中に荒れたピット内で怪我人が出た為、一部で賛否を起こした。同2007年、フィンランドのヘルシンキにて音楽とフィルムの祭典Avanto Festivalへ参加。現地国営TV局のイーヴニング・ニュースに出演し、茶の間に毒付く様が放映された。現在までにスウェーデン、ノルウェイ、デンマーク、ポーランド、スペイン、ドイツ、スイス、フランス、ベルギー、英国と欧州各地を演奏して回った。2009年、オスロで行われた即興音楽の祭典、All Earsフェスティバルに米国のボルビトマグス等と共に参加した際には、PAに拒絶された。国際交流としてのコラボレーターは、Emil Beaulieau、John Wiese、Rock'n'Roll Jackie (aka Smegma)、Bastard Noise、Zbigniew Karkowski、Kelly Churuko、Lasse Marhaug、Anla Courtisなどなど。近年は使用機材を限定せずに従来のライヴ・エレクトロニクスのみならず、シンセサイザーやラップトップの使用などフレキシブルに試みている。
[PAINJERK official](http://painjerk.blogspot.jp)
Live: THE THING: Mats Gustafsson (alto, tenor, baritone and slide saxophone, live electronics) Ingebrigt Håker Flaten (double bass and bass guitar) Paal Nilssen-Love (drums) Akira Sakata (alto, clarinet, voice) PAINJERK (electronics) Artist Infromation: THE THING Mats Gustafsson - alto, tenor, baritone, live electronics Ingebrigt Håker Flaten - double bass and bass guitar Paal Nilssen-Love - drums After forming in 1999 as a Don Cherry recording project, Scandinavian garage jazz trio The Thing soon established themselves as one of the most important European jazz groups, playing a variety of compositions, including material by PJ Harvey, Albert Ayler, The White Stripes, Steve Lacy, The Stooges, The Sonics, The Cramps, Lightning Bolt and The Ex. They transformed the music of these artists into a contemporary context, making it their own. As individuals or as a group, they have collaborated with those including, Peter Brötzmann, Sonic Youth, Jim O'Rourke, Thurston Moore, David Grubbs, Eye, The Ex, Pat Metheny, Arto Lindsay, Steve Reid, Kieran Hebden, Merzbow, Christian Marclay, The Nomads, Guy Picciotto, Neneh Cherry and more, all activities fueling the music of The Thing to become what the group is all about. After more than 600 concerts around the globe, five studio albums including their collaborative release with Neneh Cherry, a variety of live releases over the years, in 2013 The Thing presented their sixth studio album, BOOT! as the first release on their new label, The Thing Records. Since then they've released two EP's, a live recording with Thurston Moore 'LIVE' and re-released their classic albums 'Garage' and 'Mono'. With dedicated fans in the rock, noise and jazz communities, The Thing continues to take the music to new, uncompromising levels and continues to solidify their important position in the contemporary independent music world. Event top photo by Peter Gannushkin. ![/sdlx/151205-MatsZiga.jpg](/sdlx/151205-MatsZiga.jpg) Mats Gustafsson is one of Europe's biggest names on the music scene. Through groups like Gush, AALY trio, Fire! and Peter Brötzmann`s Chicago Tentet, he has established himself as a very powerful saxophonist, and has somewhat reinvented the way of playing the saxophone. In 2011 he received the Nordic Council Music Price: the largest price for a musician in the Nordic countries. Photo by Ziga Koritnik. ![/sdlx/151205-IngebrigtZiga.jpg](/sdlx/151205-IngebrigtZiga.jpg) ![/sdlx/151205-PaalZiga.jpg](/sdlx/151205-PaalZiga.jpg) Ingebrigt Håker Flaten and Paal Nilssen-Love have become known as Norway`s heaviest rhythm-section. Since their long-time collaboration started in 1992, they have been working together in several groups like School Days with Ken Vandermark, Scorch trio with Raoul Björkenheim, and the Swedish/Norwegian jazz-group Atomic. Photos by Ziga Koritnik. Akira Sakata ![/sdlx/121218-sakata.jpg](/sdlx/121218-sakata.jpg) Born in Kure-city, Hiroshima in 1945. Studied marine biology at Hiroshima university. Formed a group Saibo-bunretsu (Cell fission) in Tokyo in 1969, and was also performing with various free-jazz musicians during this time. Since the late 1960s, Sakata has been a constant figure in jazz and creative music scenes as an ever evolving and adventurous, multi-instrumentalist, and member of classic groups such as Yamashita Yosuke Trio, from 1972 till 1979, and Wha-ha-ha plus many of his own, like the Sakata Akira mii. He has recorded with Chris Cosey, Peter Brotzmann in Last Exit, DJ Krush, Yoshimio, and others. In 2005 he began peforming with guitarist Jim O'Rourke, drummer Chris Corsano and acoustic bassist Darin Gray. They've since released three albums together. [Akira Sakata homepage](http://www.akira-sakata.com/) PAINJERK [PAINJERK official](http://painjerk.blogspot.jp)
More great eventsこちらもどうですか