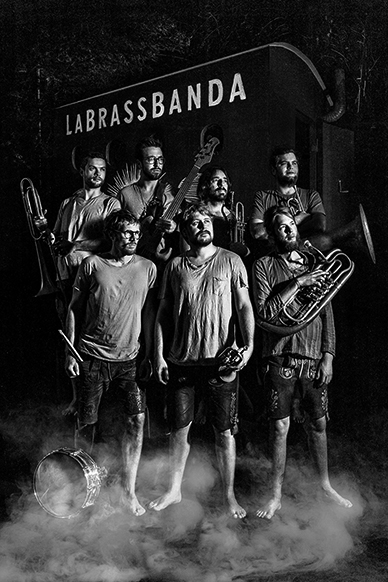 2017/01/16 月曜日月曜日
LaBrassBandaLaBrassBanda
Open: 19:00:00 | Start: 20:00 - 23:59
Export:
予約する/Reserve
本国ドイツで絶大な人気を誇るスカミクスチャーバンド「LaBrassBanda」来日!! テンションMAXの熱いステージに大注目!!
LaBrassBanda
![/sdlx/170116-lbb-388.jpg](/sdlx/170116-lbb-388.jpg)
Back in 2007, they used to be a real insider's tip: In the Upper Bavarian Chiemgau region, people in well-informed circles would whisper the name 'LaBrassBanda' and they would wax enthusiastic about this incredible band with its trademark mixture of Bavarian folk music and ska punk, techno, reggae and brass. The concerts, they said, were an explosion of energy. Anyone lucky enough to see one would feel the ecstasy for days. And they would go on and on about those guys who all entered the stage barefoot. Perhaps one could have guessed even then that LaBrassBanda would one day play in sold-out halls, perform at international festivals, and make it into the top three of the charts – but then again, who wants to think about the future in a moment as great as that little club gig where the walls are dripping with water and everybody both on- and offstage is wearing an overjoyed grin.
A lot has happened in LaBrassBanda's ten years of existence: a tour through Austria on vintage mopeds and a tractor during the 2008 European Football Championship which culminated in an invitation to play the main stage for the final in Vienna. Concerts in Russia, Zimbabwe, and England, but also at the legendary rock club 'Whisky a Go Go' in Los Angeles. Performances at all the major festivals – from Southside and Chiemsee Summer to Sziget. One (of many) highlights: the legendary 2009 Roskilde Festival. Dettl is still gushing about it: 'When we entered the large stage in that tent and started performing for maybe 100 Danes dressed in full Oktoberfest gear, and when the tent gradually began to fill up, so that we ended up with 6,000 ecstatic festival goers who cheered and celebrated us – that was a truly incredible moment!'
Between gigs, LaBrassBanda performed the occasional beer tent concert every now and then. And in 2013, they came second in the Eurovision Song Contest preliminaries (and it felt like first place), plus the three studio albums ('Habedieehre', 'Übersee', and 'Europa'), a normal live album ('Live Olympiahalle München'), a not-so-normal live album recorded in a cowshed ('Kiah Royal'), and a dub album ('Europa in Dub').
MEMBERS:
Stefan Dettl – vocals, trumpet
Manuel Winbeck – trombone
Manuel Da Coll – percussion
Fabian Jungreithmayr – bass
Stefan Huber – tuba
Jörg Hartl – trumpet
Korbinian Weber – trumpet
[www.labrassbanda.com](http://www.labrassbanda.com)
NEW ALBUM
"AROUND THE WORLD"
OUT 2017-02-24
![/sdlx/lbb-cover-250.jpg](/sdlx/lbb-cover-250.jpg)
Live: LaBrassBanda ![/sdlx/170116-lbb-388.jpg](/sdlx/170116-lbb-388.jpg) Back in 2007, they used to be a real insider's tip: In the Upper Bavarian Chiemgau region, people in well-informed circles would whisper the name 'LaBrassBanda' and they would wax enthusiastic about this incredible band with its trademark mixture of Bavarian folk music and ska punk, techno, reggae and brass. The concerts, they said, were an explosion of energy. Anyone lucky enough to see one would feel the ecstasy for days. And they would go on and on about those guys who all entered the stage barefoot. Perhaps one could have guessed even then that LaBrassBanda would one day play in sold-out halls, perform at international festivals, and make it into the top three of the charts - but then again, who wants to think about the future in a moment as great as that little club gig where the walls are dripping with water and everybody both on- and offstage is wearing an overjoyed grin. A lot has happened in LaBrassBanda's ten years of existence: a tour through Austria on vintage mopeds and a tractor during the 2008 European Football Championship which culminated in an invitation to play the main stage for the final in Vienna. Concerts in Russia, Zimbabwe, and England, but also at the legendary rock club 'Whisky a Go Go' in Los Angeles. Performances at all the major festivals - from Southside and Chiemsee Summer to Sziget. One (of many) highlights: the legendary 2009 Roskilde Festival. Dettl is still gushing about it: 'When we entered the large stage in that tent and started performing for maybe 100 Danes dressed in full Oktoberfest gear, and when the tent gradually began to fill up, so that we ended up with 6,000 ecstatic festival goers who cheered and celebrated us - that was a truly incredible moment!' Between gigs, LaBrassBanda performed the occasional beer tent concert every now and then. And in 2013, they came second in the Eurovision Song Contest preliminaries (and it felt like first place), plus the three studio albums ('Habedieehre', 'Übersee', and 'Europa'), a normal live album ('Live Olympiahalle München'), a not-so-normal live album recorded in a cowshed ('Kiah Royal'), and a dub album ('Europa in Dub'). MEMBERS: Stefan Dettl - vocals, trumpet Manuel Winbeck - trombone Manuel Da Coll - percussion Fabian Jungreithmayr - bass Stefan Huber - tuba Jörg Hartl - trumpet Korbinian Weber - trumpet [www.labrassbanda.com](http://www.labrassbanda.com) NEW ALBUM "AROUND THE WORLD" OUT 2017-02-24 ![/sdlx/lbb-cover-250.jpg](/sdlx/lbb-cover-250.jpg)
More great eventsこちらもどうですか
2023/09/24 日曜日日曜日

JOLT, SuperDeluxe, and Test Tone present:JOLT Showcase《in 横浜 Yokohama》2023

Open: 15:00 | Start: 15:30 - 19:00

入場無料!Free Entry!
最先端のオーディオビジュアルとインタラクティブ・パフォーマンス
《会場》横浜 BankART Station (みなとみらい線「新高島駅」改札上 地下1F)
JOLT Arts returns to Japan to showcase cutting edge Japanese and Australian sound and video artists!!
VENUE: Yokohama BankART Station (B1F of Shin-takashima Station, Minatomirai Line)