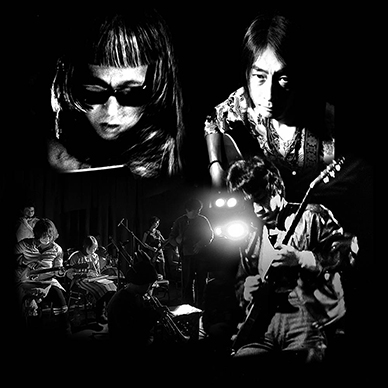 2017/06/25 日曜日日曜日
Tokyo Flashback P.S.F. Release Concert ~Psychedelic Speed Freaks~Tokyo Flashback P.S.F. 発売記念 ~Psychedelic Speed Freaks~
Open: 15:30:00 | Start: 16:00 - 23:59
Export:
予約する/Reserve
予約受付終了【当日券あり:当日整理券配付】
ライブ:
灰野敬二+今井和雄
マヘルシャラルハシュバズ
Ché-SHIZU
馬頭將器+荻野和夫 (The Silence, ex.Ghost)
三浦真樹+横山玲
成田宗弘 (High Rise)
川島誠
à qui avec Gabriel
ヒグチケイコ with ルイス稲毛
長谷川静男
.es
冷泉
平野剛
生悦住英夫氏追悼ライブ。
*入場料はご遺族へのお見舞金となります。
* 動画撮影 / 録音禁止
写真撮影可(シャッター音、フラッシュ禁止)
P.S.F. Records [discogs.com](https://www.discogs.com/ja/label/40166-PSF-Records)
RESERVATIONS CLOSED A limited number of tickets available at the door Live: Keiji Haino + Kazuo Imai Maher Shalal Hash Baz Ché-SHIZU Masaki Batoh + Kazuo Ogino (The Silence, ex.Ghost) Maki Miura + Rei Yokoyama Munehiro Narita (High Rise) Makoto Kawashima à qui avec Gabriel Keiko Higuchi with Louis Inage Hasegawa Shizuo .es Reizen Go Hirano A memorial festival for the founder of P.S.F. Records Hideo Ikeezumi. Admission charge donated to his family. NO VIDEO or AUDIO RECORDING Photography OK (NO FLASH, NO SHUTTER SOUND) "Hideo Ikeezumi, founder and owner of the record label P.S.F. Records and the record shop Modern Music, passed away on the morning of February 27. P.S.F. reigned from the 1980s as the undisputed king of the Japanese underground, releasing over 200 titles and supporting numerous individualistic Japanese musicians. Countless Japanese artists were able to leverage their P.S.F. releases to secure an international following, and the label enjoyed wide familiarity amongst avant-garde music fans from across the globe. Modern Music was a highly unusual shop that rejected the popular post-punk and new wave music of the time, choosing to focus instead on anything that passed muster with its owner's unique sensibility. In that pre-internet era, the shop also functioned as a vital forum for information exchange and meetings. Before the news of Ikeezumi-san's death, we had begun planning a compilation album of unreleased tracks by P.S.F. artists to encourage him in his recovery. We still plan to release this album on Disk Union/DIW before the summer. We hope that you will look forward in anticipation for this final P.S.F. release, rich with psychedelic rock, acid folk, and free music. Ikeezumi-san may have floated free from the bonds of this world, but I am confident that he too will be looking forward to its release. And I pray that we may hear once more his smiling, well-salted criticism of our efforts." Love and prayers, P.S.F. Artists P.S.F. Records [discogs.com](https://www.discogs.com/ja/label/40166-PSF-Records)
More great eventsこちらもどうですか
2022/10/16 日曜日日曜日

SuperDeluxe presents: SupernaturalDeluxe Vol.2八木美知依 Michiyo Yagi

Open: 16:30 | Start: 18:00 - 19:00

前売/Advance: ¥3500 | 学生/Student: ¥2500 | 当日/Door: ¥4000
邦楽から前衛ジャズ、現代音楽、プログレッシヴ・ロックまで幅広い分野でワールドワイドに活躍するハイパー箏奏者 八木美知依が南房総に初登場!
チケット販売開始しました!
Join us for this first-ever performance in southern Chiba by one of the premier virtuosos of the Japanese transverse harp known as the koto!
Tickets On Sale Now!