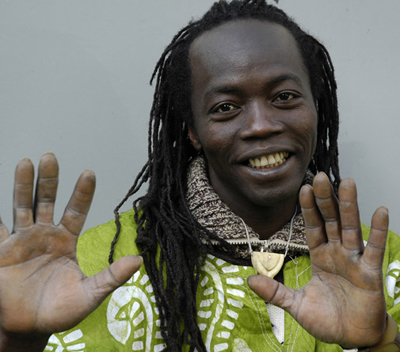 2007/09/01 土曜日土曜日
Piga Piga Nightぴがぴがナイト
Open: 18:30:00 | Start: 19:00 - 23:00
Export:
予約する/Reserve
ぴがぴがナイト13th
ぴがぴがナイトは9/1(土)、来日するエピゾ・バングーラ ファミリーをゲストに招いての開催です。今回はエピゾにバンドスタイルのライブをやらないかと持ちかけたところ、やろうということになり、この日だけのエピゾ・バングーラ with タブレカ スペシャルバンドが登場します。伝統スタイルとは違うワールドミュージックのエピゾが見られるまたとない機会になるはず。
ライブ: エピゾ・バングーラ with タブレカ スペシャルバンド、ムビラトロン、チキリカ、JariBu、タブレカ
ダンスワークショップ: アマラ・カマラ
ライブペインティング: シーノ・タカヒデ
DJ: 松島玉三郎
最新情報は、ぴがぴがホームページで更新中!
タブレカ
アフリカ人と日本人の混成バンドで、リズムのアフリカ人とメロディーの日本人とがいっしょになることで新しい音楽を生みだそうとしている。そのサウンドは名づけて"アフロ・ビート・ジャム"
アフリカのリズムをベースに、歌あり、踊りあり、ジャムセッションありのアフロダンスファンキーサウンド。楽器が歌い、バトルしあい、全体が一体となった演奏はパワフルでエキサイティング。
Piga Piga Night 13th
Live: Epizo Bangoura with Tabureka Special Band, Mbiratron, Tikirica, JariBu, Tabureka
Dance Workshop: Amara Camara
Live Painting: Shiino Takahide
DJ: Tamasaburo Matsushima
visit
Piga Piga Homepage
to find out the latest news!!!
Abdoulaye Epizo Bangoura is one of Africa's leading percussionists. A former member of the famous Fatala Band and Koteba Ensemble of the Ivory Coast, Epizo lived in both France and the United States before moving to Australia five years ago. Performing for over 20 years, Epizo has toured the world extensively playing alongside such great artists as Salif Keita, Mory Kante, Doudou N'diaye Rose, Mark Helias, Abdullah Ibrahim, Don Pullen, Ed Blackwell & Papa Ladje Camara.
Born into a family of Griots, highly respected and honored members of their community and keepers of their ancestral traditions and customs, Epizo immortalizes his culture through his songs, music, dances and legends.
A multiple award winning musician and true multi-instrumentalist Epizo plays not only the traditional percussion of his native Guinea, but all percussion, including the western drum kit, balafon (African xylophone), kora (African harp), piano, bass, guitar, violin and saxophone. Combining both traditional and contemporary elements of music Epizo has released two albums N'na and Inchallah and contributed to recordings by Louis Cesar Ewande (France), Mark Helias (USA) Jane Cortez (USA) and Regina Carter (USA) among others.
With a strong belief that rhythm and dance go together Epizo has performed with the National Dance Company of Guinea (An invitation extended to him by the President at the time.) and the Dance Theatre of Harlem as well as conducting Drum and dance workshops throughout Africa, Asia, Europe, Australia, New Zealand and the United States.
Receiving critical acclaim for his clever mastery rhythms & rare dexterity, Epizo is currently recording his highly anticipated third album due out later this year. Whether performing solo, in a trio or with his band African Express, Epizo's shows are always filled with an abundance of colour, energy and magic!
Afro Beat Jam!!! "TABUREKA" is a band that consists of Japanese and African members in an attempt to make a unique mixture of African sence of rhythm and Japanese sence of melody. The result is the Afro Beat Jam with the African rhythem at its base, filled with songs, dances, and jam sessions.
More great eventsこちらもどうですか
このカテゴリーにはまだないみたい / No events in this category