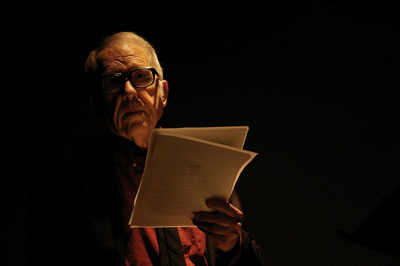 2008/05/22 木曜日木曜日
Japanese Cinema Eclectics日本映画撰集
Open: 19:00:00 | Start: 20:00 - 23:59
Export:
予約する/Reserve
日本映画の岐路に捧げるシリーズ
ドナルド・リッチーとスーパーデラックスがお届けするニューフィルム・シリーズ。
上演: 恐怖奇形人間 / 監督: 石井輝男、脚本: 掛札昌裕 & 石井輝男、主演: 吉田輝雄 (1969/99分)
恐怖奇形人間
1969年10月31日、東映配給網により"異常性愛路線"の1作として劇場公開された怪奇映画。監督石井輝男、主演吉田輝雄。カラー99分。製作東映 (京都)。江戸川乱歩の『パノラマ島奇談』と『孤島の鬼』をベースに、『屋根裏の散歩者』などの諸作品をミックスしたストーリー。地上波では未放送で日本ではソフト化されていないが、根強いファンを持つカルト映画である。
90年代に本作が池袋の名画座で公開され、カルト映画として注目された結果、石井輝男復活の起爆剤となった。"江戸川乱歩全集"とはいうものの、全ての乱歩作品が登場するわけではなく、乱歩世界のエッセンスを映像化した形となっている。当時の同時上映作品は『(秘)劇画 浮世絵千一夜』(長編アニメーション映画)。2007年、Synapse FilmsによりDVDが全米発売された。
ドナルド・リッチー
Pacific Stars and Stripes の特別記者として1974年に来日。占領時代後半リッチー氏は、ジャパンタイムズの映画評論家、芸術批評家として活躍。翌年、Films of Akira Kurosawa (1965)、Ozu (1974)、One Hundred Years of Japanese Film (2002) を含め数々の著書を出版。また、生涯60年間過ごして来た日本についてThe Island Sea (1971)、Japanese Portraits (1991)、最新刊 The Japan Journals (1947-2004) を含め40冊以上の著書を手掛ける。1968年から1973年にかけて、ニューヨーク現代美術館の映画館長を務める。Time紙によりリッチー氏は「日本芸術批評家の最高権威」と称され、Susan Sontag は「ドナルド・リッチーは類い稀なる視点で、鋭くしかも機知に富んだ方法で日本を描いている」と称している。
詳細についてのお問い合わせは、
テンプル大学日本校までご連絡下さい。
電話番号: 03-5441-9800 (ext. 709)
メール: icjs@tuj.ac.jp
FILM: HORRORS OF MALFORMED MEN (KYOFU KIKEI NINGEN)
DIRECTED BY TERUO ISHII, WRITTEN BY MASAHIRO KAKEFUDA AND TETSUO ISHII, WITH TERUO YOSHIDA, MINORU OKI, YUKIE KAGAWA, ASAO KOIKE, TERUKO YUMI, MITSUKO AOI, AND TATSUMI HIJIKATA. 1969, 99 MINS.
Language: Introduction by Donald Richie in English
Film in Japanese (film to be followed by a Q&A moderated by Donald Richie)
Japanese Cinema Eclectics official site
HORRORS OF MALFORMED MEN
(Kyofu Kikei Ningen)
"Transgressive. Disturbing. Depraved. Enter the mad world of Teruo Ishii and submerge yourself in the shocking fantasies of a malformed mind - the greater unsung classic in the history of cult cinema. Banned for decades! The most notorious Japanese horror film even made." Thus hype for this famous but unseen film. A young medical student, abducted into an insane asylum, takes the place of a deceased brother he never knew he had, and escapes to confront his mad father on the mysterious island where men (and women) are malformed and mutilated. Based on the stories of Rampo Edogawa, the finished film was disliked, neglected and eventually banished by the studio that made it, but is now famous as the only commercial film appearance of Tatsuki Hijikata, founder of the Butoh dance movement, and - as both the insane and the malformed - his troupe.
This single showing (the original Japanese with English subtitle) is made possible by the gracious permission of Toei Motion Picture Company and Synapse Film (USA), Panic House Entertainment.
Donald Richie
Named by TIME magazine, "the dean of Japan's art critics," and acknowledged as the foremost authority on Japanese cinema, Donald Richie has also written widely - some forty books in all - on other aspects of the country and its people. The Inland Sea has been called a classic and its film version has won prizes at international film festivals as well as the National Geographic Earth Award. His Public People, Private People has been called "unforgettable" by Tom Wolfe and of his two collections of essays, A Lateral View and Partial Views, Susan Sontag has said: "Donald Richie writes about Japan with an unrivaled range, acuity, and wit."
Richie has lived in Japan for most of his life. Arriving on New Year's Day, 1947, he worked as feature-writer and film critic for The Pacific Stars and Stripes. After graduating from Columbia University in 1953, he returned to Japan as film citic for The Japan Times. He has written for Newsweek, The Nation, Variety, The New York Times, The Guardian, Harper's, Atlantic Monthly, and all major films magazines. In addition he presented the first retrospective of the Japanese film director Yasujiro Ozu at the 1962 Berlin Film Festival and has since acted as guest director of the Telluride Film Festival, and served on the juries at the Hawaii, Lacarno, Thessaloniki, and Kerala Festivals.
In addition to writing a column for The Japan Times, lecturing around the world, and continuing to lend his distinctive voice to Japanese studies, Donald Richie teaches film at Temple Universityfs Japan Campus.
Presented by the
Institute of Contemporary Japanese Studies
Temple University, Japan Campus
in Association with SuperDeluxe
More great eventsこちらもどうですか