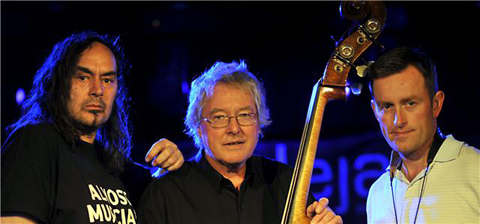 2010/09/07 火曜日火曜日
Arild Andersen TrioArild Andersen Trio
Open: 19:30:00 | Start: 20:00 - 23:59
Export:
予約する/Reserve
Arild Andersen トリオ:Arild Andersen ((bass), Paolo Vinaccia (drums), Tommy Smith (sax)) opening act: Oncenth Trio (岩見継吾(bass), 栗田妙子(piano), 池澤龍作(drums)) / ECMを代表するオスロ出身のベーシストで Scott LaFaroから脈々と続く白人系ベーシストの系譜を受け継ぐ演奏テクニックを持つArild Andersen(b)がトリオにて登場。 これは本当に滅多にないチャンス。 そしてオープニングアクトとして、気鋭のベーシスト岩見継吾率いるOnthence Trioが登場!
激しく優雅な演奏は新しい風を届けてくれます。是非ともこの一夜はお見逃し無く!
Arild Andersen トリオ
ヨーロッパを代表するベースプレイヤーで、北欧ジャズの四天王と称されるアーリル・アンダーシェンを中心に結成されたトリオ。アンダーシェンの力強いダブルベースの響きに支えられ、メロディックな旋律とさわやかなリズムと豊かな色彩とを融合させた軽やかで豊かなサウンドを生み出している。2009年1月に、ヨーロピアン・ジャズ・ミュージシャン・オブ・ジ・イヤー2008に選ばれた。
Arild Andersen (アーリル・アンダーシェン)
arildandersen.com
Paolo Vinaccia
paolovinaccia.com
Tommy Smith
tommy-smith.co.uk
写真は左から、Paolo Vinaccia (drums)、Arild Andersen (bass)、Tommy Smith (sax)
Oncenth Trio
Oncenth Trio myspace
岩見継吾(bass)


岩見blog
 
栗田妙子(piano)


栗田ホームページ
 
池澤龍作(drums)


池澤ホームページ
Arild Andersen Trio: Arild Andersen (bass), Paolo Vinaccia (drums), Tommy Smith (sax) / opening act: Oncenth Trio (Keigo Iwami (bass), Taeko Kurita (piano), Ryusaku Ikezawa (drums))
Anchored by the massively sonorous, muscular double bass playing of Andersen, who has been one of the major figures in Scandinavian jazz since his early 1970s work with Jan Garbarek, the Arild Andersen Trio marries melodic invention with crisp rhythms and rich coloring. Scottish saxophonist Smith's tough yet tender tenor playing and Italian-born, Norwegian-based Vinaccia's creative, imaginative drumming combine with Andersen's remarkable flexibility and use of multi-layered lines to create a sound that's orchestral in scope and yet superbly mobile. Arild Andersen was named European Jazz Musician of the Year 2008 by the Academie du Jazz in France for this trio's critically acclaimed release "Live at Belleville" (ECM, 2008)
Arild Andersen
Born in Norway October 27 -1945 . Arild Andersen has been one of Europe's leading bass player since the early 70s. Andersen started out as a member of Jan Garbarek Quartet (67-73) . The group also included Terje Rypdal and Jon Christensen. In the same period he also worked with Norwegian singer Karin Krog and played in the rhythm section for visiting American musicians such as; Phil Woods , Dexter Gordon, Hampton Hawes, Johnny Griffin, Sonny Rollins, and Chick Corea. He also worked with Don Cherry and George Russell in these years.
The official homepage of Arild Andersen
Paolo Vinaccia
Born in Italy, Paolo Vinaccia has lived 25 years in Norway and is central in the Norwegian and European jazz scene – well known for his wizard abilities on a number of rhythm instruments, as well as the drums. Paolo is one of the most sought after studio musicians in Europe with over one hundred recordings. Paolo Vinaccia has collaborated with such great artist as Palle Mikkelborg, Mike Manieri, Jon Christensen, David Darling, Nils Petter Molvær, Ketil Bjørnstad, Terje Rypdal, Bugge Wesseltoft among others.
The official homepage of Paolo Vinaccia
Tommy Smith
Tommy Smith's special talent was obvious as soon as he appeared on the Edinburgh jazz scene in his early teens. He recorded his first album, Giant Strides, at the age of sixteen in 1983 with drummer John Rae, and that same year he won a scholarship, assisted by an extensive fund-raising programme organised by his music teacher, Jean Allison, to attend the prestigious Berkley College of Music in Boston. Tommy Smith just (jan 09) received the honour of being awarded with the BBC 'Heart of Jazz' Award 2008.
The official homepage of Tommy Smith
Top photo from left, Paolo Vinaccia (drums), Arild Andersen (bass), Tommy Smith (sax)
Oncenth Trio
Oncenth Trio myspace
Keigo Iwami (bass)
IWAMI blog
Taeko Kurita (piano)
KURITA homepage
Ryusaku Ikezawa (drums)
IKEZAWA homepage
Supported by
TOKYO JAZZ 2010
The Norwegian Embassy in Tokyo
More great eventsこちらもどうですか
2023/05/29 月曜日月曜日

SuperDeluxe and edén presentSoundcheck & Spa!《in 勝浦 Katsuura》

Open: 15:00 | Start: 15:00 - 21:00

入場無料 (招待制) Free Entry (Invitation Only)
開場 15:00 Open 〜 終了 21:00 Close
場所 ⇒ 勝浦 edén
DJs: YELLOWUHURU, Chris SSG x David Dicembre, Art Kuramochi

2023/06/03 土曜日土曜日

Open: 14:00 | Start: 14:00 - 20:00

入場無料 Free Entry
開場 14:00 Open 〜 終了 20:00 Close
主催 Presented by: Permaculture AWA, Kosmic Market, SuperDeluxe

2023/06/10 土曜日土曜日

SuperDeluxe presents: SupernaturalDeluxe Vol.5坂田明 × Susana Santos Silva × Giovanni Di Domenico × 小暮香帆 × 中山晃子

Open: 16:30 | Start: 18:00 - 19:00

ヨーロッパと日本の注目アーテイストによる音楽・ダンス・Alive Paintingのコラボレーションを見逃しなく!ジャンルやメディアを超えるワールドクラスの即興パフォーマンスを是非体験してください。
Join us for a very special performance of live music, dance, and Alive Painting! Awa Eye and Ear Control!


2023/06/20 火曜日火曜日

Permaculture Academy Japanパーマカルチャーデザイン・コース

Start: 終日/All Day

定員に達したため、お申込の受付を終了とさせていただきます
2023年6月20日〜26日 と 2023年8月8日〜14日(合計12泊14⽇)
パーマカルチャー・アカデミー・ジャパンのパーマカルチャーデザイン認定 (PDC) コースでは、 自分の暮らしの土台にある生態系とバランスのとれた持続可能な再生システムをデザインする方法についての情報、 アイデア, インスピレー ションに没頭することができます。豊かな暮らしをデザインするための観察力、​創造性とプロセスを身に付ける集中講座です。