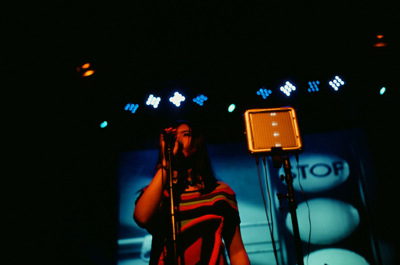 2011/02/10 木曜日木曜日
Analog Girl LoungeAnalog Girl Lounge
Open: 18:00:00 | Start: 21:30 - 00:00
Export:
予約する/Reserve
Open Lounge with Special Guest the Analog Girl
The Analog Girl info
Named by TIME magazine as one of 5 Music Acts To Watch alongside Japanese multi-instrumentalist Cornelius is Singapore-based electro-rock chanteuse The Analog Girl. A pioneer in the regional scene who helped define the genre that is laptop rock, The Analog Girl first sprung into the international spotlight when American sportswear
giant Nike featured a track off her debut self-released, self-produced album The TV Is On on their European ad campaign Changing The Game in 2005. Since then her unique yet catchy brand of electro pop has been featured on NYLON TV for episodes featuring Kim Gordon (Sonic Youth) and Ladytron, landed her a support slot with New York's hypnotic electronic girl duo Telepathe and a series of live shows around the world. Armed with her sexy MacBook Pro and fascinating machines, The Analog Girl has taken her music from clubs to concert halls to art spaces, having headlined The Knitting Factory in New York, performed for top British photographer Nick Knight's SHOWstudio in London, Worldtronics Festival at the Haus der Kulturen der Welt in Berlin, the
Cirque Electrique in Paris, gift_lab in Tokyo, Soso Cafe in Sapporo, Labella in Shanghai and at the MTV Asia Awards Voting Party in Singapore. Embarking soon on her next New York 2011 tour, The Analog Girl will be rocking a visual sound with her LED sequencer, the Tenori-On and other intriguing toys at Tokyo's premier sound art space Super Deluxe.
Photo by julius-landau
Homepage
SHIFT Review(JP)
myspace
Youtube
More great eventsこちらもどうですか
2023/04/08 土曜日土曜日

SupernaturalDeluxe x Pacific Mode尾島由郎 & 柴野さつき|Ultrafog

Open: 15:30 | Start: 17:00 - 18:45

環境音の世界を追求している音楽家「尾島由郎」と近代・現代ピアノ音楽のスペシャリスト「柴野さつき」によるユニット。そして近年で重要な新興レーベルからリリースを続ける「Ultrafog」の2マンライブ!!
DJ:YELLOWUHURU, DJ Healthy
Open 15:30 / Live 17:00 (2 sets) / Close 19:30
Join us for a special program of ambient electronics curated by Pacific Mode from New York City!

2023/04/23 日曜日日曜日

SuperDeluxe presents: SupernaturalDeluxe Vol.4Ayal Senior|峯田哲治

Open: 15:30 | Start: 17:00 - 18:45

カナダから初来日の12弦ギター奏者アヤルと峯田哲治のフォーク/ブルースを見逃しなく!!
DJ:アート倉持
Open 15:30 / Live 17:00 (2 sets) / Close 19:30
Join us for an early evening of folk-blues featuring the Japan debut of 12-string guitarist Ayal Senior from Toronto performing "Az Yashir" with band and a special solo set by Tetsu Mineta!