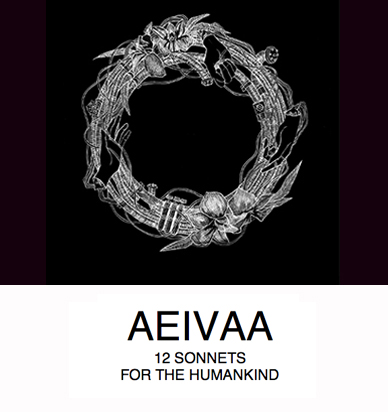 2014/04/09 水曜日水曜日
Starship loungeStarship lounge
Open: 19:00:00 | Start: 19:00 - 23:59
Export:
予約する/Reserve
アンビソニック・サウンド・インスタレーション:
AEIVAA – 12 SONNETS FOR THE HUMANKIND
Ivan Pavlov a.k.a. CoH
AEIVAA is 20 minutes 12 seconds long but plays in a continuous loop. On this night you can have the luxury of spending as much time as you like in the installation with very few diversions. Come enjoy!
TOKYO NOISE
NOEL-KIT
artwork (c) yuu omiya
アーティスト詳細:
Ivan Pavlov a.k.a. CoH (Editions Mego / raster-noton)
![/sdlx/130519-CoH.jpg](/sdlx/130519-CoH.jpg)
1998年よりCoH名義で音源をリリースしているストックホルム在住のロシア人ミュージシャンIvan Pavlov。彼は90年代後半からの、raster-noton、 MEGO、 Eskaton といったヨーロッパのレーベルによるコンピューターベースミュージックの流れの中で認知されてきた。ソロでの活動以外に、過去10年の間にCOIL、Cyclobe、cosey Fanni Tuttiといったミュージシャンとの共同作品をリリースしている。2007年にはPeter Christophersonとユートビア未来的なアートプロジェクトSOISONGを結成、2012まで活動を続けた。2013年5月にはEditions Megoから新作「RETRO-2038」をリリース。
NOEL-KIT
![/sdlx/140409-NOEL.jpg](/sdlx/140409-NOEL.jpg)
[NOEL-KIT Homepage](http://noelkit.com/)
ambisonic sound installation AEIVAA - 12 SONNETS FOR THE HUMANKIND Ivan Pavlov a.k.a. CoH AEIVAA is 20 minutes 12 seconds long but plays in a continuous loop. On this night you can have the luxury of spending as much time as you like in the installation with very few diversions. Come enjoy! TOKYO NOISE NOEL-KIT artwork (c) yuu omiya Artist Info: Ivan Pavlov a.k.a. CoH (Editions Mego / raster-noton) ![/sdlx/130519-CoH.jpg](/sdlx/130519-CoH.jpg) ['son] - noun: "sleep","dream" [Russian] Ivan Pavlov is a Russian-born resident of Stockholm who has been releasing music as CoH since 1998. CoH was among the names recognizable in the wave of the late 90's computer-based music that brought forth such European record labels as raster-noton, Mego, Eskaton, Staalplaat, among others. Aside of the solo productions, during the past 10 years Ivan had also released joint works with other artists including Coil, Little Annie Anxiety, Cyclobe, Richard Chartier and Cosey Fanni Tutti. In 2007 he teamed up with Peter Christopherson to form a utopian futurustic art project called SOISONG, which is due to end in 2012. NOEL-KIT ![/sdlx/140409-NOEL.jpg](/sdlx/140409-NOEL.jpg) [NOEL-KIT Homepage](http://noelkit.com/)
More great eventsこちらもどうですか
2023/09/24 日曜日日曜日

JOLT, SuperDeluxe, and Test Tone present:JOLT Showcase《in 横浜 Yokohama》2023

Open: 15:00 | Start: 15:30 - 19:00

入場無料!Free Entry!
最先端のオーディオビジュアルとインタラクティブ・パフォーマンス
《会場》横浜 BankART Station (みなとみらい線「新高島駅」改札上 地下1F)
JOLT Arts returns to Japan to showcase cutting edge Japanese and Australian sound and video artists!!
VENUE: Yokohama BankART Station (B1F of Shin-takashima Station, Minatomirai Line)