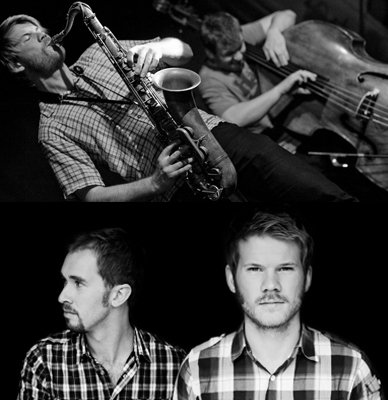 2014/11/30 日曜日日曜日
Friends & Neighbors / AlbatroshFriends & Neighbors / Albatrosh
Open: 19:00:00 | Start: 19:30 - 23:59
Export:
予約する/Reserve
はるか北欧の地はノルウェーより、若手ジャズバンド2組が来日決定!
今回の公演では、空間そのものを使ったノーPAによる完全アコースティック・セットでのライブを試みます。今ノリにノッている彼らの演奏をその息吹まで耳を研ぎ澄まし、間近で堪能して下さい!本物の生音が持つ臨場感溢れる本物の音楽の響きをぜひとも体感して下さい!
出演:
Friends & Neighbors
Albatrosh
出演者詳細:
Friends & Neighbors
![/sdlx/141130-F.jpg](/sdlx/141130-F.jpg)
Thomas Johansson – trumpet
André Roligheten – tenor saxophone/bass clarinet
Oscar Grönberg – piano
Jon Rune Strøm – double bass
Tollef Østvang – drums
Friends & Neighbors represents a new generation of bands from the Norwegian jazz-scene. The music can be described as energetic and melodic free jazz inspired by musicians like Ornette Coleman, Archie Shepp, Pharoah Sanders and John Carter. On their debut album "No Beat Policy" (2011), Friends & Neighbors created an authentic and acoustic atmosphere that refers back to the political roots of free jazz. Through original and strong compositions, this has resulted in a band sound with strong identity, crystal clear presence and personality. The quintets members can also be heard in bands like Team Hegdal, Frode Gjerstad trio, Albatrosh, Cortex and All Included.
Albatrosh
![/sdlx/141130-albatrosh-L.jpg](/sdlx/141130-albatrosh-L.jpg)
André Roligheten – Tenor Saxophone
Eyolf Dale – Piano
Albatrosh is a Norwegian duo of saxophonist André Roligheten and pianist Eyolf Dale. Since they started in 2006 they have toured extensively both in Norway and Europe, as well as several concerts in USA and Asia. Albatrosh has received national and international awards for their music, and they have released three critically acclaimed albums. The latest, «Yonkers» (Rune Grammofon), got great reviews and two major Norwegian newspapers ranked it as one of top 3 releases in 2011. New York Times stated this when they reviewed the album; "…it's their intuitive chemistry that lifts the album to another plane, raising hopes for the next go-round". The music of Albatrosh is a rare combination of jazz / impro / classical music. The material is based on original compositions by Dale and Roligheten, where the essence is about how they combine the composed and the improvised. An observant listener once stated ..one gets the feeling of that anything can happen, while it all have a connection!»
[www.albatrosh.com](http://www.albatrosh.com)
Live: Friends & Neighbors Albatrosh Artist Information: Friends & Neighbors ![/sdlx/141130-F.jpg](/sdlx/141130-F.jpg) Thomas Johansson – trumpet André Roligheten – tenor saxophone/bass clarinet Oscar Grönberg - piano Jon Rune Strøm – double bass Tollef Østvang – drums Friends & Neighbors represents a new generation of bands from the Norwegian jazz-scene. The music can be described as energetic and melodic free jazz inspired by musicians like Ornette Coleman, Archie Shepp, Pharoah Sanders and John Carter. On their debut album "No Beat Policy" (2011), Friends & Neighbors created an authentic and acoustic atmosphere that refers back to the political roots of free jazz. Through original and strong compositions, this has resulted in a band sound with strong identity, crystal clear presence and personality. The quintets members can also be heard in bands like Team Hegdal, Frode Gjerstad trio, Albatrosh, Cortex and All Included. Albatrosh ![/sdlx/141130-albatrosh-L.jpg](/sdlx/141130-albatrosh-L.jpg) André Roligheten - Tenor Saxophone Eyolf Dale - Piano Albatrosh is a Norwegian duo of saxophonist André Roligheten and pianist Eyolf Dale. Since they started in 2006 they have toured extensively both in Norway and Europe, as well as several concerts in USA and Asia. Albatrosh has received national and international awards for their music, and they have released three critically acclaimed albums. The latest, «Yonkers» (Rune Grammofon), got great reviews and two major Norwegian newspapers ranked it as one of top 3 releases in 2011. New York Times stated this when they reviewed the album; "...it's their intuitive chemistry that lifts the album to another plane, raising hopes for the next go-round". The music of Albatrosh is a rare combination of jazz / impro / classical music. The material is based on original compositions by Dale and Roligheten, where the essence is about how they combine the composed and the improvised. An observant listener once stated ..one gets the feeling of that anything can happen, while it all have a connection!» [www.albatrosh.com](http://www.albatrosh.com)
More great eventsこちらもどうですか