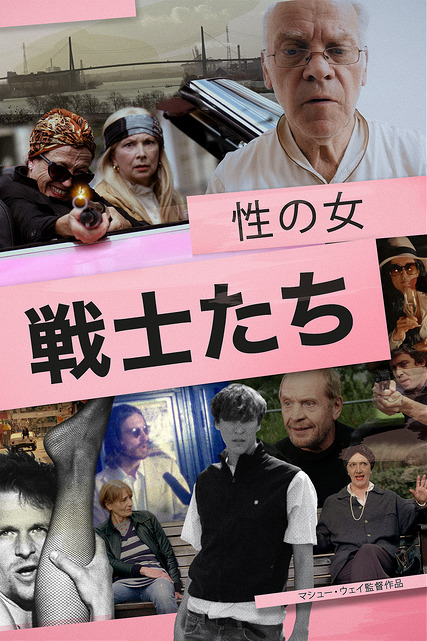 2016/07/19 火曜日火曜日
THE GENITAL WARRIORS Screening『性の女戦士たち/ジェニタル・ウォリアーズ』上映会
Open: 19:00:00 | Start: 19:30 - 23:59
Export:
予約する/Reserve
ドイツ発のカルトムービー!!「性の女戦士たち/ジェニタル・ウォリアーズ」上映会/トークショー:マシュウー・ウェイ監督
『THE GENITAL WARRIORS』(2014年/ドイツ/86分/ドイツ語・日本語字幕)
チケットは [Peatix](http://peatix.com/event/180312/) にて
ダダ100周年フェスティバル
20世紀初頭、既存の概念を壊す新しい芸術のムーブメントとして生まれ、世界的にその潮流が広がっていった「ダダイズム(ダダ)」。当時のドイツも大きく影響を受けた、この1916年生まれのムーブメントは、今年で100周年を迎えます。そこで発祥の地のスイスではもちろん、日本でも東京を中心に本日から9月にかけてアートイベントや展覧会、コンサートなどが行われます。詳細はこちらから:[dada100.jp](http://dada100.jp/)
Screening "The Genital Warriors" and after talk with Director Matthew Way. "The Genital Warriors" (2014 / Germany / 86 Min / German and English with Japanese subs) "A post-modern Dadaist masterpiece! An identity farce! The anthem of a parallel universe! I love this movie!!!" 
-Patrick Knorr, screenplay writer Tickets: [Peatix](http://peatix.com/event/180312/) Synopsis: The ensemble film "The Genital Warriors" pieces together the three main characters' fragmentary pasts, allowing their different perspectives and memories to meet and overlap. A geronto-psychiatric ward in Hamburg, Germany: The 70 year-old patient FRANK types a screenplay about his relationships with LENA (71) and BARBARA (68), two women he lost long ago and now wants to win back. These two women meet by chance on a park bench over the Elbe River; Flashbacks take us back to their fragmentary memories of places and relationships. Both women were romantically involved with the same two men, Frank and VIKTOR. It ended badly. They decide to take revenge and travel by means of a magic wand into the past. On their journey, different embodiments of Lena and Barbara meet their ex- boyfriends again and again, fighting for the correct version of their common hi/story – their ex-boyfriends are to be wiped out. This is achieved in a drive-by shooting from an old pink Cadillac or at the old club where the Beatles got famous. But Frank continues to work on his screenplay and doubles of the two men consistently rise again. To his horror, Frank discovers that, in addition to Lena and Barbara, his doctor has also played a role in his life story. Frank accuses Dr. Reimenschneider of always having stood between him and the two women. The boundaries between reality and fiction become increasingly fragile… Matthew Way (Director) Matthew Way was born outside of Philadelphia, USA, studied at Wesleyan and Duke Universities and moved to South America before getting a Fulbright Scholarship in Germany, where he founded Way Film Production in 2003. He makes a living by subtitling mainly German films both past and present – from Hans-Christian Schmid, Fatih Akin and Christian Petzold, to Wim Wenders, Rainer Werner Fassbinder and Fritz Lang. He employs native speakers of various languages to subtitle films from all around the world, for example by Luis Buñuel, Jean-Luc Godard and modern directors, too. Matthew lives and works in Berlin and Hamburg, while also frequenting the USA and much of Europe.
More great eventsこちらもどうですか
2023/09/24 日曜日日曜日

JOLT, SuperDeluxe, and Test Tone present:JOLT Showcase《in 横浜 Yokohama》2023

Open: 15:00 | Start: 15:30 - 19:00

入場無料!Free Entry!
最先端のオーディオビジュアルとインタラクティブ・パフォーマンス
《会場》横浜 BankART Station (みなとみらい線「新高島駅」改札上 地下1F)
JOLT Arts returns to Japan to showcase cutting edge Japanese and Australian sound and video artists!!
VENUE: Yokohama BankART Station (B1F of Shin-takashima Station, Minatomirai Line)